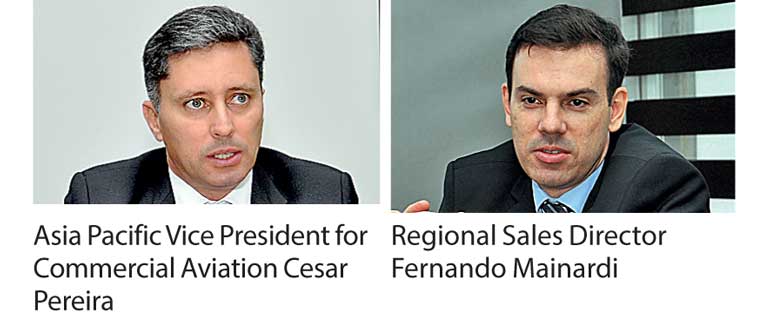 Says Sri Lanka can harness full potential of strategic location to be aviation hub with optimisiation of national carrier's regional route network by deploying the right and more short-haul planes
By Nisthar Cassim

Bullish on Sri Lanka's prospects to be an aviation hub given The strategic location, Brazil's global aircraft manufacturer Embraer yesterday confirmed it was keen to serve SriLankan Airlines' short haul fleet's needs.

Embraer is the leading manufacturer of commercial jets of up to 130 seats, and its Asia Pacific Vice President for Commercial Aviation Cesar Pereira and Regional Sales Director Fernando Mainardi are in Colombo on an exploratory visit as well as making courtesy calls on aviation sector stakeholders.

Since its inception in 1969, the Sao Paulo and New York-listed Embraer has delivered over 8,000 aircraft and says every 10 seconds one of its jets takes off somewhere in the world transporting over 145 million passengers annually. Its aircraft operate in over 90 countries, including 17 in Asia Pacific, a region which has over 330 Embraer aircraft in service.

"With our own research as well as Sri Lanka's future promise, we are very positive about growth opportunities here," Pereira told the Daily FT yesterday in an interview alongside Brazil's Colombo-based Counsellor Bruno Pereira A. De Abreu.

The Embraer executive said Sri Lanka was among a select few countries in Asia Pacific where the company sees "clear opportunities."

"We understand that Sri Lanka's national carrier is undergoing an important restructuring program aimed at improving its operations. In terms of cost, Embraer commercial airplanes are 20% cheaper than other options such as Airbus Neo and offers 25% greater fuel efficiency per seat. Given SriLankan Airlines' plans to enhance regional traffic, we believe Embraer is a good value proposition," Pereira said.

He says that given the strategic geographic location, Sri Lanka is a natural and effective hub between South Asia and rest of the world.

According to Embraer, its E190-E2 and E195-E2, with a seat capacity ranging from 98-124 passengers, are cost-effective for serving several five-hour short-haul destinations within South Asia and Southeast Asia, including Singapore, Bangkok, Jakarta, Chengdu and Guangzhou on the east and Indian cities, Dubai, Dammam, Seychelles and Male in the west.

"Using the right equipment (aircraft) and with it the frequency is key to improving the connectivity business and optimising the route network. This is more so if an airline is keen to feed regional traffic to the hub," said the Embraer executive, adding that he was confident Colombo has the potential to be an aviation hub similar to Dubai or Singapore.

Pereira also said that the 20% lower operating cost as well as other benefits were good enough reasons to manage the complexities owing to operating two different brands of aircraft. Embraer has multiple customers using dual fleet. For nearly two decades SriLankan has been an all-Airbus fleet.

To explore opportunities locally, Embraer is also harnessing the strong bilateral ties between Sri Lanka and Brazil. Unlike some of the other leading aircraft manufacturers, Embraer customers can also benefit from more favourable financing from Brazil's Exim Bank.

The airlines in Asia Pacific operating Embraer commercial aircraft include Japan Airlines, Fuji Dream Airlines, Virgin Australia, Airnorth, Mandarin Airlines, NovoAir, Myanmar National Airlines, China Southern Airlines and China Eastern Airlines while some of the major airlines in Europe and the US are British Airways, Lufthansa, Air France (Regional), KLM, Finnair, American Airlines, JetBlue and Delta Airlines.

It operates a Regional Distribution Centre for Asia Pacific in Singapore, and the company also maintains field support representatives in Australia, India and Japan.

In the third quarter of this year, Embraer delivered 25 commercial and 20 executive jets. It had firm orders worth $ 18.8 billion as at end September. Year-to-date, Embraer delivered 137 airplanes. Out of this, a total of 78 aircraft were sold to the commercial aviation segment. In the same period, 59 aircraft were delivered to the executive aviation segment.

According to a report in Nasdaq.com, Embraer expects total market deliveries of 6,400-2,300 jets in the 70-90 seat segment and 4,100 units in the 90-130 seat segment by 2035. The 70-130 seat worldwide fleet in service is anticipated to increase from 2,670 jets in 2015 to 6,690 by 2035, making it the fastest growing segment.

Embraer is listed on the stock exchanges of Sao Paulo and New York, and is also on the BM&BOVESPA Corporate Sustainability Index (ISE) and the Dow Jones Sustainability Index (DJSI).