---
The latest edition of LMD notes that the LMD-Nielsen Business Confidence Index (BCI) declined to 90 in December, following a jump of 25 basis points from 85 to 110 in the previous month.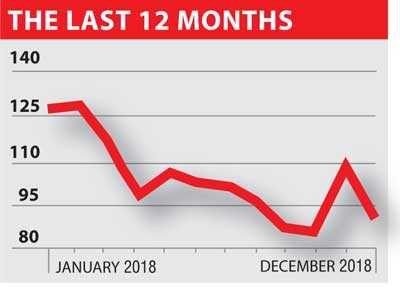 According to the leading business magazine, the results of the latest survey – which was conducted in the first week of December – can be attributed to factors such as the depreciation of the Sri Lankan Rupee, downgrading of Sri Lanka's credit ratings by rating agencies and uncertainty that prevailed in Parliament at the time. Nielsen's Managing Director Sharang Pant observes that while the country's macroeconomic performance has been somewhat encouraging in recent months, "political instability is outweighing the positives amid question marks hanging over investments by local and foreign investors".

Politics, the health of the economy, and bribery and corruption are reported as being among the main concerns in corporate circles.

One corporate executive asserts: "The public does not have money to purchase goods, businesses are struggling and investments are on hold – and the only party who should take responsibility for this crisis are the politicians who've created this political and economic turmoil."

A spokesperson for the business magazine explains that the spike in sentiment witnessed in November may have been "too good to be true considering the events on the ground at the time." In terms of the outlook for the index, she says: "There may well be a U-turn in the BCI as a result of the resolution to the dissolution of parliament."

LMD's publisher, Media Services, says the latest edition of the magazine will be released to leading bookstores and supermarkets on 4 January (for the full BCI report, visit www.LMD.lk).