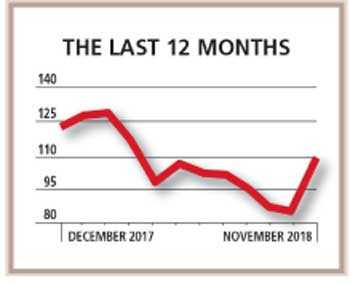 The latest edition of LMD reports that the LMD-Nielsen Business Confidence Index (BCI) shot up by 25 basis points to 110 in November, from 85 in October. According to the leading business magazine, this is the highest jump since the formation of the now abandoned coalition government back in August 2015.

In the December issue of LMD, Nielsen's Managing Director Sharang Pant notes that while political instability remains one of the chief national and business concerns, "businesses feel that there would be measures towards improving the ease of doing business by whichever regime assumes power next."

Moreover, he states that "a reduction in taxes and better policy making are what businesspeople cite as reasons that would lead to an improvement in business conditions".

LMD reveals that politics, economic concerns – including taxes and currency depreciation – and bribery and corruption are among the key sensitivities highlighted by corporate executives.

Speaking to Daily FT, a spokesperson for LMD notes: "Despite the prospect of oil price volatility and the trade war between the world's two largest economies, events on home soil have apparently led to a sense of optimism in business circles – surprising as that may seem."

However, when it comes to the outlook for the unique barometer of business confidence, she says: "It's anyone's guess as to where the BCI will head in the short term although there may well be more surprises ahead."

Media Services, which publishes LMD, says the latest edition of the magazine has been released to leading bookstores and supermarkets (for the full BCI report, visit www.LMD.lk).