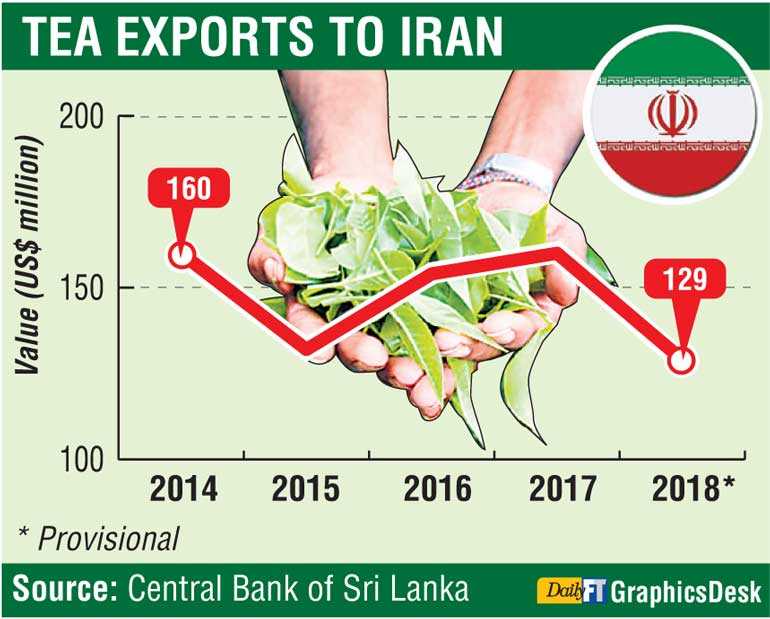 Plantation Industries and Petroleum Resources Development Ministries to submit joint Cabinet paper soon to resolve impasse on tea and oil trade
By Charumini de Silva

Proactive negotiations are underway towards finalising a crucial barter deal between Sri Lanka and Iran to resolve impasse over tea exports and payment due on oil imports.

The Ceylon Petroleum Corporation (CPC) has a long outstanding payment liability worth $ 240 million on oil purchased from Iran. As a possible settlement midst US-led sanctions on Iran, a $ 10 million per month tea exports for two years is being worked out.

"Sri Lanka Tea Board is still in discussion with various Government institutions and departments particularly with the CPC to expedite the process of signing the agreement with the Iranian tea importers to enable the barter system, where Ceylon Tea could be supplied to," Sri Lanka Tea Board Chairman Lucille Wijewardena told the Daily FT.

At present, Iran is the fourth largest market for Ceylon Tea value and volume wise. In 2018, Iran imported 23.9 million kilograms of Ceylon Tea worth $ 129 million.As the barter system needs to be agreed upon a number of institutions and departments within both countries, he pointed out it was time-consuming in arranging the necessary logistics. "We have had lengthy discussion in this regard with officials from Iran and hope to reach an agreement soon," Wijewardena stressed.

He also said that once everything is finalised the Plantation Industries Ministry and Petroleum Resources Development Ministry will put forward a joint Cabinet paper to seek approval for the proposal. "Most of the administrative work is now being finalised. After seeking approval from the Cabinet, before the end of the year we will be able to commence tea exports to Iran," Wijewardena added.

The tightening of economic sanctions against Iran by the UN and the US has had a tremendous negative effect on the Colombo Tea Auction prices.

As tea is considered a food item which has received clearance for trading under humanitarian grounds by the UN and US, Wijewardena highlighted that the problem for Sri Lanka was the non-availability of a banking system in Iran which is currently blacklisted. "Due to trade sanctions imposed on dollar transactions with Iran by the US, banks refuse to engage in dollar transactions with Iranian banks," he pointed out.