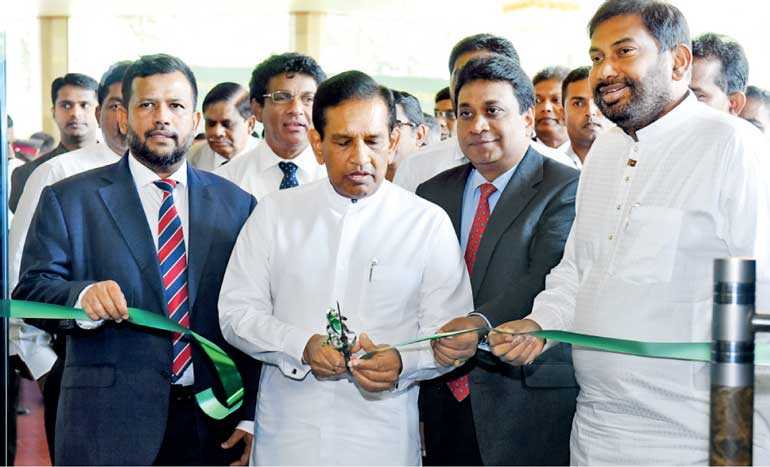 Minister of Health, Nutrition and Indigenous Medicine Dr. Rajitha Senaratne, Minister of Social Welfare and Primary Industries Daya Gamage and Minister of Industry and Commerce Rishad Bathiudeen at the opening of Ayurveda Expo 2018 at the BMICH - Pic by Kithsiri de Mel


By Shannon Jayawardena
The three-day Ayurveda Expo 2018 opened yesterday at the BMICH creating a platform for the indigenous sector.

The seventh edition of the show is open from 9.00 a.m. to 5.00 p.m. and concludes on Sunday. The exhibition contains several stalls with the medicine and other related equipment on treatment on how to prevent or cure non-communicable diseases like diabetes, chronic respiratory diseases and even cancer which are rapidly growing in Sri Lanka. Likewise, herbal product manufactures, buyers and sellers of Ayurveda medical products, hospitals, clinics, meditation and yoga centres, Ayurveda holiday resorts from Sri Lanka and overseas countries will be present at the exhibition.

The exhibition aims at creating a platform for local and overseas organisations engaged in the indigenous healthcare systems to meet and establish strong links among one another.

It is organised by the National Chamber of Commerce in collaboration with the Health, Nutrition and Indigenous Medicine Ministry and in partnership with the Ministry of Social Welfare and Primary Industries, Ministry of Industry and Commerce, Ministry of Foreign Affairs, Department of Commerce, Sri Lanka Export Development Board, Sri Lanka Tourism Promotion Bureau and the National Gem and Jewellery Authority.

Minister of Health, Nutrition and Indigenous Medicine Dr. Rajitha Senaratne who was the Chief Guest at the expo said: "I am very thankful to the National Chamber of Commerce for consecutively organising this event as developing our national medicine is a country's top priority."

Minister Senaratne highlighting the country's very vast and long history of indigenous medicine also noted that if a person is suffering from some form of disease, the sickness must first be identified and then treated with the right medicine. He further stressed on the fact that the indigenous medicine in Sri Lanka treats the people, rather that the disease alone.

"Ayurveda in the country began many years ago during the time of the Mahavansaya but we have since lost most of it today which is quite unfortunate. The expo that commenced in 2007 has come a long way and hence is a great honour to the country," said Minister of Social Welfare and Primary Industries Daya Gamage.

Minister of Industry and Commerce Rishad Bathiudeen who was also a Guest of Honour at the opening stated: "This expo is in view of citizen health and wellbeing and our ministry is happy to be a part of it. Ayurveda practice is a long standing tradition among locals and when we talk about Ayurveda, it is in link with our local medicine."

Ayurveda therapies have varied and evolved over more than two millennia and is deeply rooted in our culture. Therapies are typically based on complex herbal compounds, minerals and metal substances and ancient Ayurveda texts have also been proven to strive in surgical techniques, including rhinoplasty, kidney stone extractions, sutures, and the extraction of foreign objects.

Minister Bathiudeen hence stressed on the fact that it is of paramount importance to safeguard our indigenous sector which is a huge part of the country's culture and heritage.

"This exhibition has been organised not only to showcase products but to network and develop business opportunities with our own colleagues and foreign friends as well. Ayurveda is becoming very important to our health and this will give more recognition and prominence to the sector," emphasised Ayurveda Expo 2018 Steering Committee Chairman and National Chamber President Sujeeve Samaraweera.