Post-Easter Sunday attacks, stationery manufacturer Atlas Axillia Co. hurting under damaging racist attacks via social media
Says company is truly Sri Lankan brand powered by multi-ethnic employees and customers, will continue to contribute to economy
By Charumini de Silva

Stationery manufacturer Atlas Axillia Co., which has been targeted by hate campaigns since the Easter Sunday attacks, this week reiterated that it is a truly Sri Lankan company with great diversity and makes a significant contribution to the economy.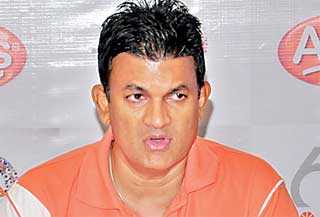 Atlas Axillia MD Asitha Samamaweera - Pix by Sameera Wijesinghe
Following the 21 April extremist terror attacks, the firm came under fire from many baseless and defamatory claims, all aimed at misguiding the public and its customers.

"The country was shaken by the Easter Sunday terror attacks that left us all grieving and in shock. Fear, anger and frustration were emotions we all felt as Sri Lankans. After these horrifying attacks and while trying to recover as a nation, certain parties took advantage of the situation and launched defamatory campaigns against local businesses, to gain short-term competitive advantage," Atlas Axillia Co. Managing Director Asitha Samaraweera told journalists on Wednesday.

He claimed that the hate campaign targeting the firm has undermined the hard work and dedication of 1,200 employees of the company, thousands of dependents of this business and the growth of the country's economy. The company has an ethnic ratio of 90% Sinhala, 7% Tamil and 3% Muslim employees.

"In our 60-year journey we've come across many obstacles, from substandard imports to cheap duplicates, we have had our fair share of challenges. But this is truly a pathetic and very disheartening situation. This hate campaign, at the end of the day, is having a much larger impact on the minds of our young children and can open the market for costly and low quality imports," he stressed.

According to him, nearly 400 posts or comments promoting hate speech and fake news against the brand have been made by fake accounts on Facebook and the social media platform has taken action to remove them as per their policies.

A further 148 defamatory comments and posts have been made by people working in competitor companies and those with vested interests. Today, 50% of the negative comments and posts against the brand on Facebook are made by fake profiles.

He said that at grassroots level, there is a campaign by unethical parties with vested interests advocating traders and teachers to boycott Atlas products, and children are being asked to not use Atlas products, or worse, being punished for using them.

"We are taking firm action against this hate campaign. We have lodged a complaint with the CID and we will be sending a Letter of Demand to some of the individuals responsible for these attacks. Additionally, we have launched a campaign for trade, schools, and the public, educating them about the truth. A school is considered as very sacred place, but the kids are now being bullied for using Atlas products and it is happening all over the country," Samaraweera said.

The company however could not reveal the impact on sales as data is still being gathered. Atlas Axillia Co. produces two million items on a daily basis.

Atlas Axillia Co. originally known as the Ceylon Pencil Company Ltd. was founded in 1959 by D.S. Madanayake with 10 employees and 11 machines, during a time the market was dominated by imported pens, pencils and books. But the company proved that high quality yet affordable products can be produced locally and was able to offer more products to Sri Lankans over time.

In 2018, Atlas, wanting to expand its footprint in international markets, searched for a company to partner with, and Hemas Holdings PLC, another 100% local company with strong business ethics and a code of conduct as Atlas, was selected from several nominees. Today 75.1% shares of Atlas are with Hemas, a publicly listed company, while 24.9% shares remain with Nirmal Madanayake, the son of the founder.

Being a 100% Sri Lankan brand, Atlas has helped the country to save around Rs. 2.5 billion annually by locally manufacturing stationery, which otherwise would be spent on imports.

Samaraweera called on the need to create awareness for stronger regulations and policies against hate speech on social media. "We hope more civil societies, industry bodies and politicians will join this fight against hate speech on social media," he added.

The company was confident that they would return back to normalcy by peak season during November and December this year. "We operate with honour and honesty and we are confident that we will continue to grow in the years to come despite any challenge that comes our way. We will continue to invest in Sri Lanka in terms of employee capabilities, infrastructure and innovation, and expand reach both locally and internationally. We are confident about our business stability and growth," he emphasised.