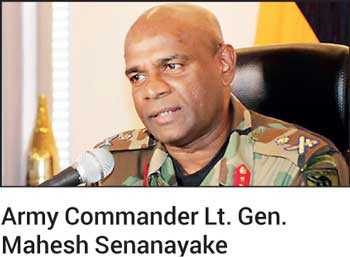 By Shanika Sriyananda

Army Commander Lt. Gen. Mahesh Senanayake on Thursday assured that Maj. Prabath Bulathwatte, the main suspect in the abduction of journalist Keith Noyahr, who has been reinstated to active service will not intimidate or harass the witnesses who testified against him in the case.

Noyahr was abducted in May 2008 and Maj. Bulathwatte was arrested in 2017. While he is on bail, he has been taken in back to the Army after the coordinated suicide bomb blasts on Easter Sunday to track down the IS network in the Eastern Province.

"He is my staff officer and directly works under me. Under the present situation, I need his expertise. He is one of the intelligence officers who were monitoring some of the people in that area for some time," he said.

Lt. Gen. Senanayake, speaking to media, said that he would give the assurance that neither Maj. Bulathwatte nor any other office would bring discredit to the country and that they had no extra powers to work against anyone.

Maj. Bulathwatte, who was attached to the Directorate of Military Intelligence, had led the Tripoli military intelligence unit, which did surveillance of journalists, at Slave Island. According to CID investigations, it was revealed that he had connections to several attacks against journalists, the murder of the Sunday Leader Editor Lasantha Wickrematunge, abducting journalist Keith Noyahr, and attacking Rivira Editor Upali Tennakoon and journalist Namal Perera.

The Army Chief said that getting the services of Maj. Bulathwatte was not illegal and he needed the services of officers like him to get more information when suspects connected to extremist groups were arrested.

He said that Maj. Bulathwatte could not escape from the law for his alleged involvements as he was back in active service and that he could not escape the Army's law related to such allegations either.

When asked whether he would get access to vital intelligence documents, Lt. Gen. Senanayake, refuting the claim, said he didn't have any access to what the Commander of the Army had been granted.

"I am asking him to do certain things and he operates under my command. I have to look after the safety of the country and its people. It is my responsibility to fight with the best resources that the Army has. We have arrested many people and we have continued to monitor them, and we need experts like Maj. Bulathwatte to give us information," he said, adding that he would not have Maj. Bulathwatte's services for a long time.

The Army Chief stressed that he didn't have to get approval from anybody to get Maj. Bulathwatte's expertise.

"Nobody should tell me what I should do. I was unaware that Maj. Bulathwatte is more important than Zahran," he said smiling.

Meanwhile, Lt. Gen. Senanayake revealed that the soldier who was accused of supporting the mob shown in the CCTV footage had not been found guilty, and that he was putting on the strap of his weapon and not calling the mob to attack the place in the footage.

"I clarified the truth in this video at the Security Council. Our inquiry has found that he was not supporting the attackers. There are three CCTV camera footages and they show clearly that the soldier was putting the weapon strap around his neck," he said, adding that if any SLA soldier is found to have supported those incidents, the Army would take stern disciplinary actions against them.

Lt. Gen Senanayake said that when hundreds of people are in a mob, the Army would first use minimum power, but they could use maximum force if needed.

"Using maximum power would be our last resort as we will try to negotiate with the crowd first in a tense situation. If you want us to use maximum force at the first instance, we can do so, as we are good at shooting," he said, answering a question from media as to why the Army failed to control the mob attacks in the North Western Province.