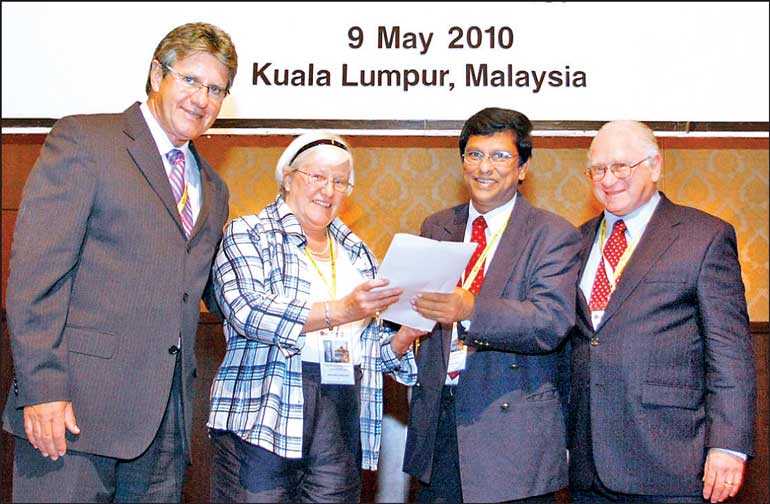 The Award presented by the International Federation of Kidney Foundations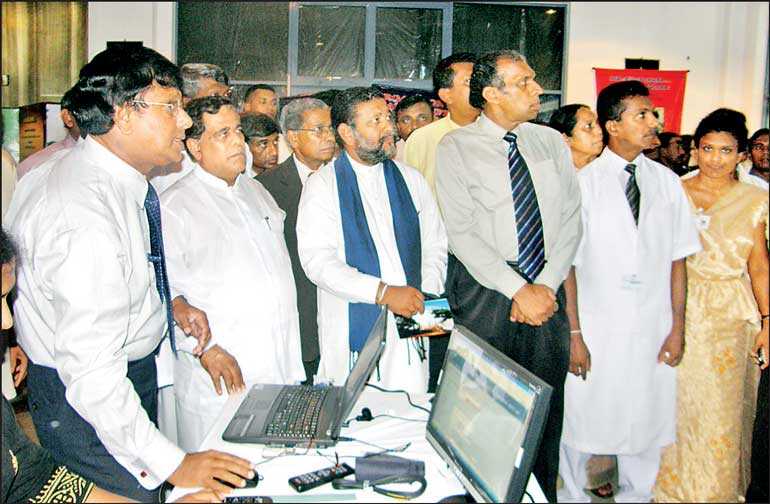 The launch of the National Organ Donor Program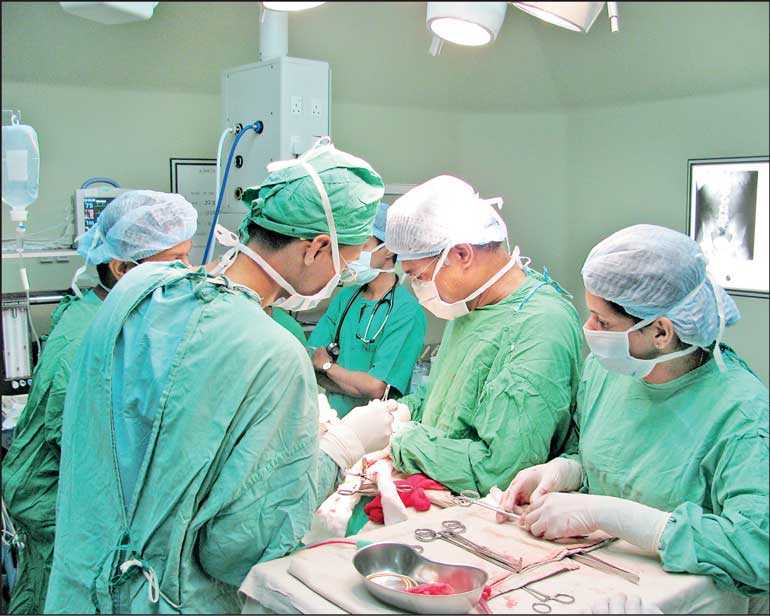 The 1st live transplant in Kandy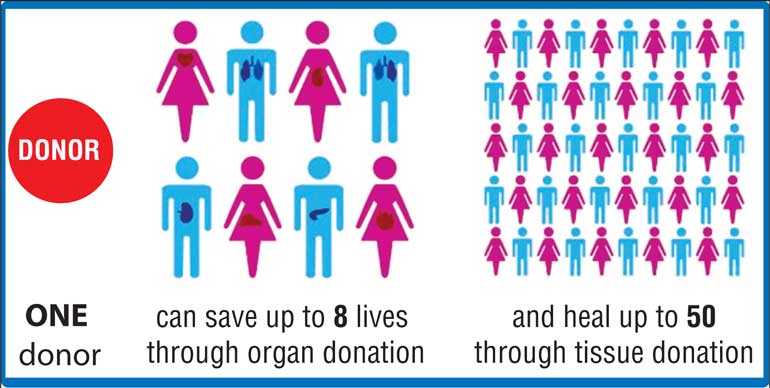 ---
By Ajit F. Perera
Having established the Kidney Transplant Support Foundation in 2007, the National Organ Donor Program was formally launched in 2009 by then-Health Minister Nimal Siripala De Silva, with the support of my consortium partner, the National Kidney Foundation of Sri Lanka (Incorporated by Act No. 34 of Parliament), chaired by Dr. A.M.L. Beligaswatte, an eminent Urological Surgeon and a former Director General of Health, ably assisted by Consultant Nephrologist Dr. Tilak Abeysekera, as Secretary.
The objective was primarily to help the large number of kidney disease patients who were dying (8 out of 10 were dying for lack of donors). Investing over Rs. 6 million, donating 20 computers across the country to major hospitals with ICUs, it was intended that potential donors would step into these hospitals and register for organ donation either while alive, or after death.
We were confident that being a predominantly Buddhist country, that many would step forward to be donors, and they did! At the beginning, we had over 50-60 calls a day - of course, mainly for after death donation.
Sadly, despite an MoU with the Ministry of Health, we did not receive active support from them, and due to the personal agendas of many doctors, who despite a Circular requesting them to participate chose not to do so, resulting in the program not reaching its objective. (Please visit our website www.ktsf.lk for full details). Nevertheless, we are still operating in a low-key manner, and it is our fervent hope that we will receive support from the media to generate publicity for appealing to the public for organ donation.
It is in this context that I learned that Singapore, which is a very progressive state, has a law (HOTA) which makes it mandatory for all citizens to become organ donors once they reach the age of 21. I give below an extract for public perusal (source: https://www.gov.sg/factually/content/what-is-hota-all-about):


What is the Human Organ Transplant Act?
Under the Human Organ Transplant Act (HOTA), four organs, namely, the kidneys, liver, heart and corneas, can be recovered in the event of death for transplantation […] The organs will give patients with organ failure another chance at life.
All Singaporeans and Permanent Residents who turn 21 years of age, and who are not mentally disordered, will be covered under the Act. Those who choose to remain under HOTA will have a higher priority in receiving an organ if they need a transplant in future.


How will I be informed of the Act?
All Singapore Citizens and Permanent Residents who turn 21 years of age will receive an introductory letter from MOH, informing them about HOTA and their responsibilities under the Act. They will also be informed that they can opt out if they object to donation of their organ(s) upon death. The public will also be informed of HOTA through periodic advertisements in the newspapers and on television […]."
Actually, although HOTA refers only to the kidneys, liver, heart and corneas, many more organs could be harvested. If death occurs under the right medical conditions, in an ICU, attached to a ventilator, in addition to the kidneys, liver, heart and corneas, we are able to harvest the pancreas, 2 lungs, and the intestines, directly saving 8 lives! Even under normal circumstances, we are able to heal up to 50 patients with the donation of various tissues. (Please visit the Human Tissue Bank at site.htb.mobitel.lk)
Working with the Human Tissue Bank, we encourage people to register for donation even after death, through our site or theirs. Why cremate your remains wastefully, when up to 50 patients can benefit, is what we tell potential Donors.
However, we realise that this is simply not enough. That is why we urge President Maithripala Sirisena (a former Minister of Health himself), and present Health Minister Dr. Rajitha Senaratne, to present a Bill in Parliament to enact a similar law to the Singaporean HOTA, so that we can harness this vast resource and save hundreds of patients. This is a law which is long overdue.
The writer is the Chairman of the Kidney Transplant Support Foundation and can be contacted on 0722 247236 or at ajitfperera@gmail.com