Prime Minister says no requirement for sharia universities in SL
Says aim is to establish institutions under UGC where all students can study
Talks continue on Madrasa Education Regulatory Bill with involvement of AG and Muslim Affairs Ministry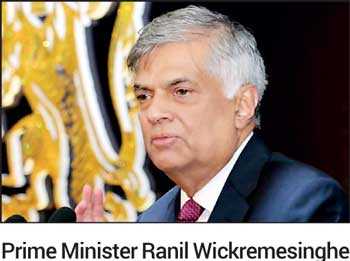 An amended version of the Madrasa Education Regulatory Bill to regulate madrasas will be presented to Cabinet following discussions with the Attorney General's Department and the Muslim Affairs Ministry, Prime Minister Ranil Wickremesinghe said yesterday.

Wickremesinghe said discussions with stakeholders, including the Muslim Affairs Ministry and the Attorney General's Department will continue, and the amendments would be included in a fresh draft that would be re-submitted to Cabinet.

"I want to clearly state that there is no need for sharia universities in Sri Lanka. What we should focus on is establishing high quality universities under the University Grants Commission (UGC) where students of different faiths can study together. This is our aim and we will formulate legislation with this target in mind," the Prime Minister said.

The short statement was made after discussions at Temple Trees on the proposed bill to regulate institutions that provide religious teachings on Friday with the participation of Muslim Affairs Minister M. H. A Haleem, Ministry Secretary S. M. Mohammad, Prime Ministerial Advisor Bimba Thilakaratne, and Deputy Solicitor Generals Merine Pulle and Asath Nawavi.

Last week the first draft of the Madrasa Education Regulatory Bill was presented to Cabinet by Muslim Religious Affairs Minister M. H. A. Haleem.

The draft proposed to set up a board of nine members, appointed by the Minister of Muslim Religious Affairs, who will be responsible for the regulation of all madrasa education once the Act is passed.

The Cabinet, which had initiated the process of drafting legal framework in motion in March, with recommendations to update two existing Acts, fast-tracked the process after the Easter Sunday explosions.

Following discussions, instead of updating existing laws, it was then decided to introduce a new Act to regulate the schools, which have not been properly regulated to date. At present, madrasa schools function at the private level with no regulatory mechanism in place by the Muslim Religious and Cultural Affairs Ministry or any other.

The first draft of the Bill also proposed the legal framework to form a nine-member committee called the Sri Lanka Madrasa Education Board for organisation, regulation, supervision, control, development, and improvement of madrasa education in the country.

The appointed board will monitor and regulate the schools and the curricula taught, and put a common system in place. The Bill has been drafted after studying regulations set in place in India and Bangladesh, and the system in place to regulate pirivena education.