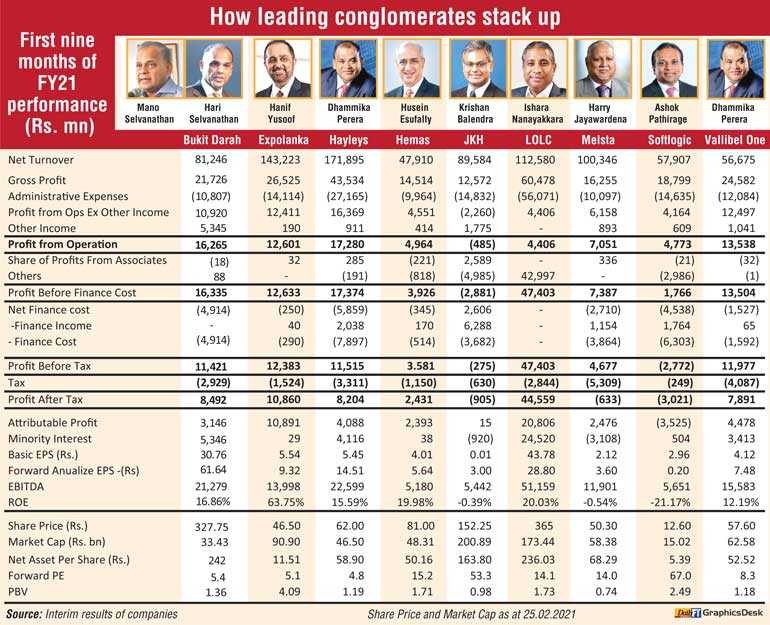 ---
By Nisthar Cassim
---
Nine select listed conglomerates have posted a combined turnover of Rs. 861 billion and Rs. 80. 7 billion as profit from operations in the first nine months of FY2021, despite the economic impact of the COVID-19 pandemic as per an analysis done by the Daily FT.
Expolanka had exponential growth of 80% in its turnover whilst LOLC saw 21% growth. For Vallibel One, it was 8% growth, and 7% for Hayleys, 4% for Hemas, and 3% for Bukit. For JKH, turnover was down by 13%, along with 12% for Melstacorp, whilst Softlogic saw a 2% dip.
Heading the turnover table is exports-rich Hayleys PLC, followed by Expolanka, whilst in Profit From Operations and Profit Before Finance Cost, Hayleys comes on top followed by the low-profile Mano and Hari Selvanathan-controlled Bukit Darah, under which is Carson Cumberbatch.
In Pre-Tax Profit, Ishara Nanayakkara-controlled LOLC comes on top followed by Expolanka, whilst in After-Tax Profit, too, LOLC tops, thanks to its one-off gain from the sale of its subsidiary in Cambodia. Expolanka, too, came second in this aspect. In terms of highest taxes paid, the highest is by business tycoon Harry Jayawardena-led Melstacorp, under which comes Distilleries and Aitken Spence, followed by Vallibel One and Hayleys.
Hayleys and Vallibel One combined gave business leader Dhammika Perera a dominant position whilst Expolanka, led by Hanif Yusoof, stands out in terms of performance, thanks to its booming logistics business.
The premier blue chip John Keells Holdings (JKH), the Chairman of which is Krishan Balendra, is going through a rough patch due to the hit on its large leisure segment, whilst other sectors have done well. Financial services-heavy LOLC shines, thanks to past strategic investments overseas paying off, whilst Hemas, majority-owned by the Esufally family, remains solid. Amidst media blitz on LOLC and JKH vying for the title of the most-valued company on the Colombo Bourse, and between LOLC and Hayleys on profitability, Bukit Darah's silent performance is interesting. Ashoka Pathirage-led Softlogic Holdings' quest for turnaround remains challenging though the third quarter saw some improvement.
Despite fortunes being mixed and fluctuating in FY21 so far, company analysts forecast an improved FY21 fourth quarter and insist the real test for all conglomerates will be in the new financial year starting from 1 April.