---
By Charumini de Silva

The tourist arrivals estimate for this year has now been revised to 1.9 million from the previous forecast of 2.1 million, officials revealed yesterday.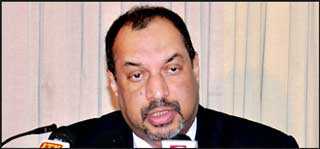 SLTDA Chairman 

Johanne Jayaratne


"Looking at the growth trajectory, we are now looking at around 1.9 million tourists by the end of the year," Sri Lanka Tourism Development Authority (SLTDA) Chairman Johanne Jayaratne told the Daily FT.

Sri Lanka originally planned 2.5 million tourist arrivals, but after the Easter Sunday terror attacks, the SLTDA revised the target in August, saying that they hoped to get around 2 million to 2.1 million tourists compared to the 2.3 million visitors recorded in 2018, representing a 10% decline in arrivals. In April, soon after the Easter Sunday attacks, tourism officials estimated revenue loss of $ 1.5 billion this year, while projecting a 30% drop in arrivals.

"We expected that the same upward growth trajectory we saw post-Easter Sunday would continue and that the forward bookings would come in. Unfortunately, the volumes that we anticipated didn't come through," he added.

Despite falling short of the 2.1 million tourist arrivals target for the year, in terms of earnings, Jayaratne was confident the country would reach its $ 3.5 billion target.

Until last month officials were quite confident that Sri Lanka was on track to achieve the revised target of 2.1 million tourists by the end of the year, despite the 27% dip in tourist arrivals to 108,575 during September due to the lean period.

"September and October are traditionally Sri Lanka's lean period. Our winter season starts from November onwards, but unfortunately expected forward bookings that we had been counting on did not come in," Jayaratne explained.

To achieve the annual projection, Sri Lanka would have to attract around 620,000 tourists over the next two months, which is quite challenging with the Presidential Election also around the corner, an analyst said.

Tourist arrivals during the first nine months of the year fell 20.5% year-on-year to 1.37 million, with the largest source market for tourists in September being India, followed by China and the United Kingdom.

The industry has been critical over the delay in launching an aggressive public relations and marketing campaign in the aftermath of the Easter Sunday attacks. The declaration of elections, although unavoidable, was another of its concerns.