Singapore registered fund is a tie-up between Vietnam's VinaCapital Group and Ataraxia Capital Partners

Promoters bullish on prospects in strategically located regional hub Sri Lanka with growing ties with China, India, Singapore and others

Looks to fund growth companies in tourism, FMCGs, distribution, healthcare and education
Bullish on the country's prospects given the regionally strategic location and growing ties with China and India, a new $ 50 million Sri Lanka Opportunity Fund (SOF) has been launched to fund high growth companies.

The promoters of SOF are VinaCapital, one of Vietnam's leading investment management and real estate development firms with over $1.8 billion in assets under management and Ataraxia Capital Partners, an investment management firm with over seven years of expertise in Asian and frontier markets, co-founded by Asanth Sebastian and Sharad Sri.

Set up via a joint venture, the SOF is a Singapore-registered fund and aims to invest in high-growth and well-managed Lankan companies as well as high potential start-ups.

The fund is modelled on VinaCapital's flagship the VinaCapital Vietnam Opportunity Fund, which trades on the London Stock Exchange's main board under the symbol 'VOF' and has a net asset value in excess of $ 1 billion.

It is consistently ranked as one of the top Vietnam-focused funds in the world.

The partnership between VinaCapital and Ataraxia Capital Partners is a co-manager relationship under which VinaCapital provides their international expertise investing in frontier markets and Ataraxia Capital provides on-the-ground expertise, given their local investment experience across multiple sectors in Sri Lanka.

VinaCapital's Singaporean subsidiary VCG Partners CEO Jason Ng told the Daily FT that Sri Lanka has great potential for growth especially given the expanding ties with China, India, Singapore and others.

"Sri Lanka is going through an important growth and transition period driven by its strategic location, a rapidly growing domestic middle class, pro-growth policies and an accelerating infrastructure build-up," Jason said. "We see Sri Lanka to be on a similar trajectory to Vietnam when VinaCapital first invested there in 2003," he added.

According to Jason, Sri Lanka has the potential to grow better than Vietnam or even follow the latter's economic model to achieve better success. "Sri Lanka's prospects are greater if it plays to its strength," Jason emphasised.

The Sri Lanka Opportunity Fund will explore investments in companies engaged in high growth or potential sectors such as tourism, FMCGs and distribution, healthcare and education. The SOF will have a unique multi-asset class approach, investing in both private and public equities.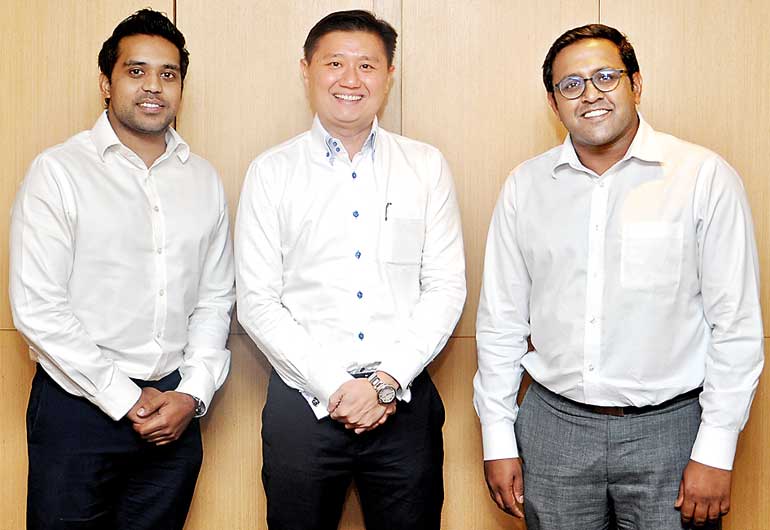 VinaCapital's Singaporean subsidiary VCG Partners CEO Jason Ng (centre) with Ataraxia Capital Partners co-founders Asanth Sebastian (left) and Sharad Sri - Pic by Ruwan Walpola


Ataraxia Capital partner Sharad Sri said that now was the ideal time for attracting international investors through a sophisticated fund structure, and given that the ecosystem for private equity in Sri Lanka was still in its infancy, it was important to have strong partners to help guide investment processes and decisions.

"Sri Lanka is now on the investment horizon for sophisticated international investors interested in frontier markets with attractive valuations. Partnering VinaCapital, an experienced investment manager with a proven track record, will help Sri Lanka and Sri Lankan companies attract additional foreign direct investment from a broader spectrum of international investors," said Sri.

"The fund will be opportunistic in nature, investing in Sri Lankan companies looking for growth and expansion capital. The fund will also assist its portfolio companies to take advantage of the Sri Lankan growth story and help them gain access to much needed capital and management expertise," said Ataraxia Capital partner Asanth Sebastian.

The SOF is able to invest in any sector within Sri Lanka and can take both minority and majority positions.

Founded in 2009 in Australia, Ataraxia began investing in Asia since then and has been providing investors with solid returns in frontier markets and in particular Sri Lanka.

Ataraxia has a solid track record of investing in listed equity, fixed income and private equity and providing returns over and above benchmarks. It has invested in various sectors including financial services, technology, education and quick service restaurants.

From a private equity perspective,Ataraxia is actively involved in growing the businesses of investee companies over the investment horizon.

The Ataraxia team includes 14 investment professionals with a combined experience of over 120 years. The team brings together significant international experience, local market insights and understanding of frontier market investing.

It has a broad and flexible investment mandate and has deployed the majority of its capital in sectors where it believes it can leverage deep experience and longstanding relationships. It seeks opportunities to invest in majority stakes or significant minority stakes in leading companies and has undertaken Greenfield investments in the past. It is a value-added investor which is prepared to work closely with management teams and play an active role in assisting its portfolio companies to reach their full potential. The investors in Ataraxia's funds include state banks, pension funds, family offices and other corporate and institutional investors across jurisdictions.