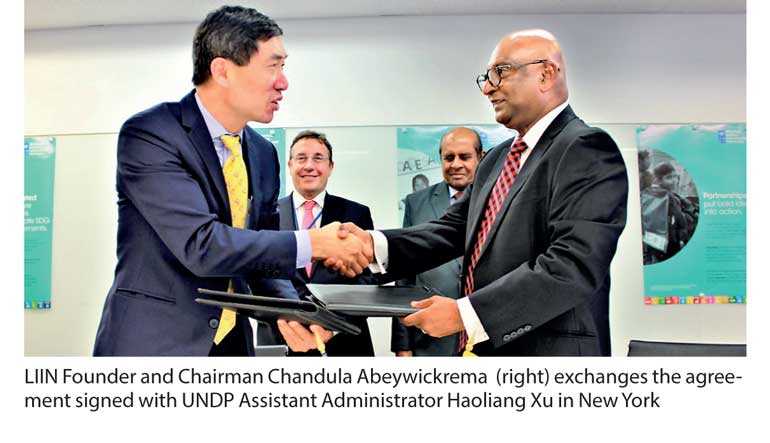 Breakthrough for Lanka Impact Investing Network, Capital Alliance Group and UNDP joint initiative
Partnership and business model showcased in New York on sidelines of ongoing UN General Assembly
For the very first time, a Sri Lankan private sector unique initiative pioneered by Lanka Impact Investing Network Ltd. (LIIN), Capital Alliance Holdings (CAL) and United Nations Development Program (UNDP) to drive sustainability development goals in Sri Lanka was showcased in New York on 25 September, on the sidelines of the UN General Assembly.

At the high-level side event which was co-hosted by UNDP, the Permanent Mission of the Republic of Turkey to the UN, and the Permanent Mission of the Kingdom of Norway to the UN, to discuss emerging business models to align the private sector with the SDGs, global pioneering examples were showcased, and the Foreign Minister of Sri Lanka highlighted this unique and key private sector-led initiative from Sri Lanka.

LIIN in partnership with Tempest PE Partners Ltd. (TPE) – partly owned by CAL, pioneered the establishment of the country's first indigenous social impact funds in collaboration with the United Nations Development Program (UNDP) to support social entrepreneurship and inclusive and sustainable businesses in the country, utilising a private equity platform.

On 26 September at the UNDP Headquarters in NY, the signing ceremony between Social Enterprise Fund Ltd. (SEF) and Social Impact Capital Ltd. (SIC) jointly owned by LIIN and TPE, and UNDP Sri Lanka as well as UNDP SDG Impact Finance took place.

The signing ceremony between LIIN, CAL and UNDP was witnessed by Foreign Minister Thilak Marapana and UNDP Administrator Achim Steiner.

LIIN Founder and Chairman Chandula Abeywickrema and CAL Managing Director Deshan Pushparajah signed on behalf of the two funds and UNDP Assistant Administrator Haoliang Xu signed on behalf of UNDP.

This pioneering initiative to create access to private equity to social entrepreneurs and inclusive and responsible businesses by LIIN, in partnership with TPE and UNDP, has created two new funds.

The first is the Social Enterprise Fund (SEF) of $ 5 million, catering mostly to micro, small and medium social entrepreneurs with investment ticket sizes ranging from $ 5,000 to $ 50,000.

The second is the Social Impact Capital (SIC) fund of $ 20 million, catering to inclusive and responsible businesses who integrate and promote social impact in the core of their business models. The investment tickets size in the SIC is larger, ranging from $ 100,000 to $ 250,000.
Lanka Impact Investing Network Chairman Chandula Abeywickrema and UN (Asia) Assistant Secretary General Haoliang Xu signing the agreement at the UNDP Head Office in New York witnessed by Minister of Foreign Affairs Thilak Marapana and UNDP Global Head Achim Steiner