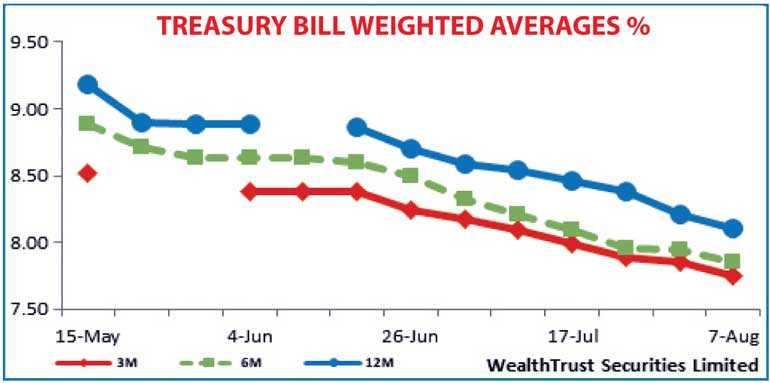 By Wealth Trust Securities

All three weighted averages continued to decrease at yesterday's weekly Treasury bill auction for a seventh consecutive week, with the total offered amount of Rs. 18.5 billion being fully subscribed. The 91-day and 364-day maturities recorded decreases of 10 basis points each to 7.75% and 8.11% respectively while the 182-day bill decreased by nine basis points to 7.85%.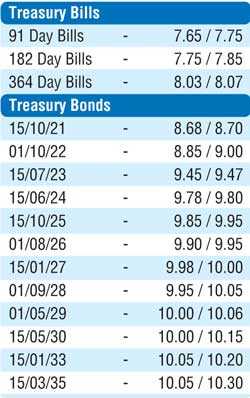 In the secondary bond market, yields were seen closing the day broadly steady yesterday against its previous day, subsequent to trading within a thin range. The liquid maturities of 15.10.21, 15.07.23 and 15.06.24 changed hands at levels of 8.70% to 8.75%, 9.44% to 9.45% and 9.76% to 9.80% respectively. In addition, the maturities of 01.05.21 and 15.01.27 were seen trading at a low of 8.60% and 9.98% as well.

The total secondary market Treasury bond/bill transacted volumes for the 6 August was Rs. 6.1 billion.

The OMO department of Central Bank was seen injecting liquidity into the system yesterday by way of a reverse repo auction for the first time since 29 April. An amount of Rs. 20 billion was infused at a weighted average of 7.83%, well below its Standing Lending Facility Rate (SLFR) of 8.50%. This was in spite of the overall liquidity remaining at a net high of Rs.30.76 billion as call money and repo averaged 7.86% and 7.95% respectively.
Rupee closes stronger

The USD/LKR rate on spot contracts was seen closing the day stronger in comparison to its previous day's closing for the first time in 7 trading sessions. It closed the day at Rs. 177.40/50 in comparison to yesterday closing of Rs.177.55/65 subsequent to trading at an intraday low of Rs. 177.75.

The total USD/LKR traded volume for 6 August was $ 148.35 million

Some of the forward USD/LKR rates that prevailed in the market were one month – 177.85/00; three months – 178.90/10; and six months – 180.50/60.