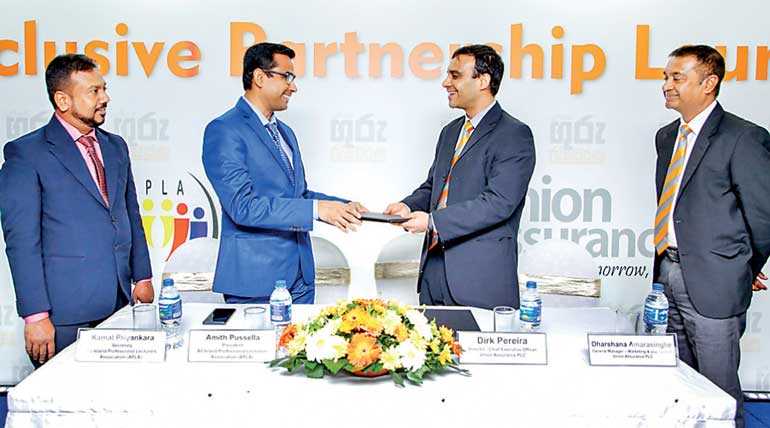 APLA Chairman Dr. Amith Pussella and Union Assurance CEO Dirk Pereira exchanging the MoU
Union Assurance (UA) recently introduced 'Union Guru Rekawarana', the first-ever Life Insurance cover which is specially designed for APLA (All Island Professional Lectures' Association) members. This special Life Insurance cover was launched after signing an exclusive partnership between APLA and Union Assurance.

The Memorandum of Understanding (MoU) was signed between APLA Chairman Dr. Amith Pussella and Union Assurance CEO Dirk Pereira in the presence of APLA members and Senior Management of UA on 22 August at the launching ceremony held in UA Head Office.

Union Guru Rekawarana is yet another historical milestone initiated by Union Assurance. This insurance solution is specially designed life insurance cover which is developed after thoroughly analysing the life style and specific needs of the APLA members. This insurance cover provides the flexibility of customising the overall solution based on the preferences and needs where they can look at investment, protection and health needs.

Apart from providing attractive investment cover and comprehensive health cover, Union Guru Rekawarana is also coupled with an array of special benefits which is essential for the life style of APLA members.

UA is capable of catering any client base like APLA with fully customisable life insurance solutions by thoroughly analysing the exact need of the group of individuals. The journey initiated with APLA members has unlocked wider opportunities for Union Assurance and the company is looking forward to initiate such strategic partnerships with any other Associations or interested parties.

Union Guru Rekawarana members can experience a smooth and efficient delivery of service from Chamara Ranathunga, who is the dedicated Senior Personal Financial Manager from Union Assurance who will be handling this special initiative. For more information you can directly contact Union Assurance on 011 2 990 990.