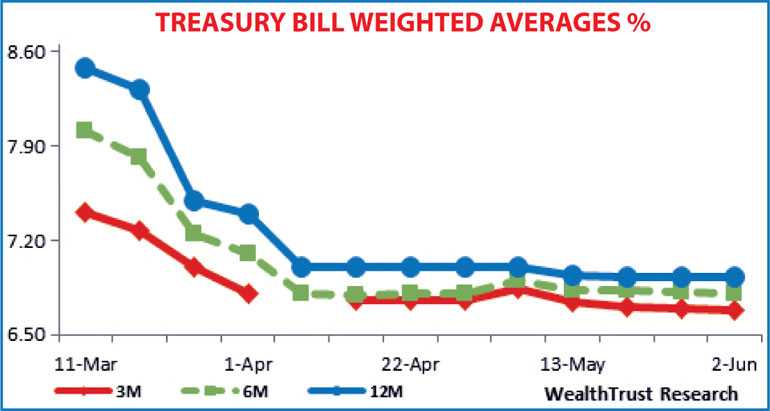 Bond yields increase
Rs. 65 billion on offer via primary Treasury bond auctions
---
By Wealth Trust Securities
---
The steady progress at the weekly Treasury bill auctions continued at its auctions held yesterday as well, as a total amount of Rs. 20.46 billion was accepted against a total offered amount of Rs. 21.5 billion. The weighted average yields on the 91 day and 182 day bills trickled down by 01 and 02 basis points respectively to 6.68% and 6.80%. The weighted average yield on the 364 day maturity remained steady at 6.93%. The bids to offer ratio stood at 1.7:1.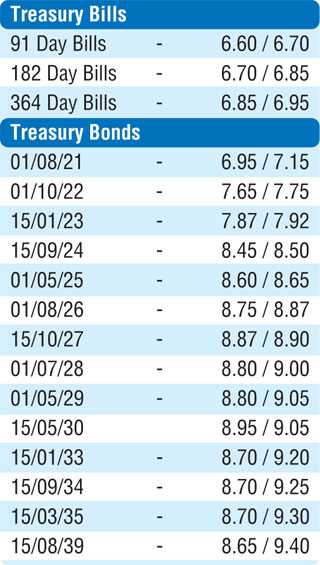 In the secondary bond market, yields increased yesterday on the back of selling interest, as the market favourite maturities of 01.10.22, 15.01.23, 2024's (i.e. 15.03.24 & 15.09.24), 01.05.25 and 15.10.27 saw its yields hit intraday highs of 7.75%, 7.90%, 8.42%, 8.50%, 8.60% and 8.92% respectively against its previous day's closing levels of 7.35/40, 7.75/78, 8.35/40, 8.40/44, 8.50/55 and 8.87/90. In the secondary bill market, 27 November, maturity changed hands at level of 6.82%.

This was ahead of today's Treasury bond auctions, where an total amount of Rs. 65 billion will be on offer, consisting of Rs. 40 billion on a new 2 year and 6 months maturity of 15.12.2022 and Rs. 25 billion on a 4 year and 11 months maturity of 01.05.2025. The weighted average yields at the auctions conducted on 12 May 2020 for the maturities of 15.01.2023 and 01.07.2028 were recorded at 8.05% and 8.85% respectively.

The total secondary market Treasury bond/bill transacted volume for 01 June was Rs. 6.16 billion.

In money markets, the weighted average rates on overnight call money and repo was recorded at 5.84% and 5.89% respectively as the DOD (Domestic Operations Department) of Central Bank was seen injecting an amount of Rs. 15 billion by way of an overnight reverse repo auction at a weighted average rate of 5.88%. The overnight net liquidity surplus in the system increased to Rs. 75.89 billion yesterday.


Rupee appreciates further

In the Forex market, the USD/LKR rate on spot contracts appreciated further yesterday to close the day at Rs. 185.80/00 against its previous day's closing levels of Rs. 186.00/10 on the back continued selling interest from banks.

The total USD/LKR traded volume for the 01st of June 2020 was $ 117.66 million.

(References: Central Bank of Sri Lanka, Bloomberg E-Bond trading platform, Money broking companies)