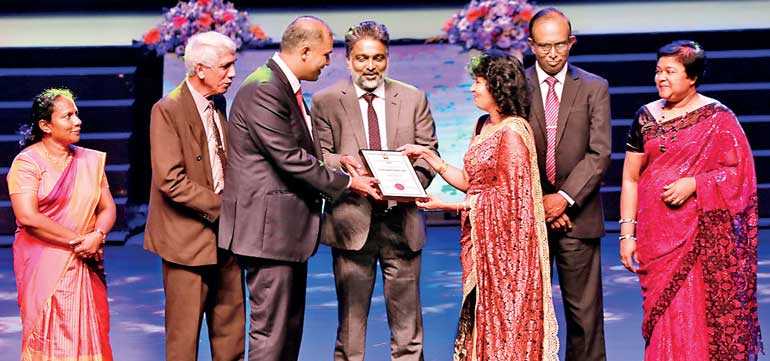 SLIC Chief Information Officer Aloka Jayawardena and SLIC Assistant Manager – Quality Shermanthi Ginige receiving the certificate
Deemed first and only insurer to be endorsed for performance excellence
Sri Lanka Insurance receives commendation certificate under the Large Scale Service category for the performance excellence at the National Quality Awards 2019.

The awarding ceremony was held on 21 August at the Nelum Pokuna Mahinda Rajapaksa Theatre with the participation of President Maithripala Sirisena.

The Sri Lanka National Quality Award is an annual Award organised and implemented by the Sri Lanka Standards Institution (SLSI) to recognise Sri Lankan Organisations that excel in quality management and quality achievement. Sri Lanka Insurance is the first and the only insurer to receive the honour of being endorsed for performance excellence and awarded with a Commendation Certificate in the insurance industry of Sri Lanka.

The National Quality Awards will be awarded to applicants after evaluating seven criteria based on the internationally acclaimed criteria used for the Malcolm Baldrige National Quality Awards in the US. The evaluation criteria consist Leadership, Strategy, Customer Focus, Measurement, Analysis and Knowledge Management, Workforce Focus, Operations Focus and Results of the applicant organisation.

The award emphasise the fact that Sri Lanka Insurance is striving to uphold the service standards maintained over the past five decades and is on a mission to enhance the level of service experience provided to the customers being in the forefront of the insurance industry of Sri Lanka.

Established in 1962, Sri Lanka Insurance Corporation is the largest government-owned insurance company in Sri Lanka, with a managed asset base of over Rs. 197 billion and a life fund of over Rs. 105 billion, the largest in the local insurance industry.

The company is also the first and only local insurer to secure Fitch Ratings AAA (lka) rating for its long-term financial stability and sustainability and also Sri Lanka Insurance ranked as the 'Most Loved Insurance Brand' and the third Most Loved Consumer Brand in the country by Brand Finance.

The company is on the mission of being a customer focused company which constantly innovates in providing insurance services to customers and is now serves customers through an extensive network of 157 branches.