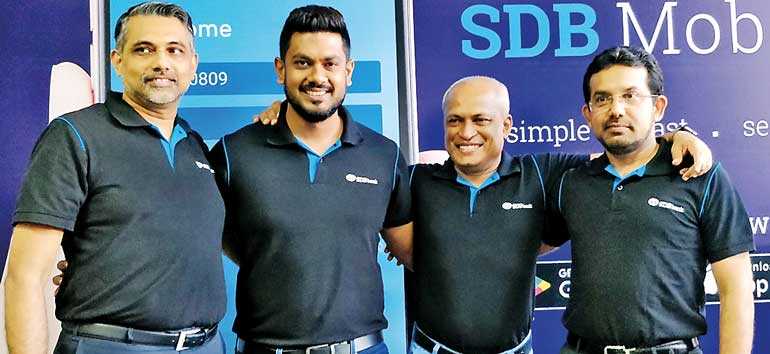 From left: Head of IT Indika Galabada, Head of Cards, Digital Banking and Alternative Channels Indika Galabada, CEO Thilak Piyadigama and Head of Operations Saman Samarakoon
SDB bank has always been committed in providing its loyal clientele with the most convenient banking experience and this extends to the SDB mobile app. The recently-launched app raises the bank's digital profile, giving quick access to a range of services from the convenience of their smartphones.

"This initiative marks a significant milestone in the bank's fast-tracked digitalisation program," said SDB bank Chief Executive Officer Thilak Piyadigama. "Smartphone penetration in Sri Lanka has grown tremendously over the last few years across all layers of society. In a similar fashion, SDB bank has also grown to cater to a wide customer base across all segments. We believe that the new mobile app will bring utmost convenience to our customers and change the way they bank for the better."

Being connected to SDB bank's digital ecosystem gives customers a seamless experience when carrying out a range of task including daily transactions, checking their accounts, managing their loans or fixed deposits, keeping track of their account history, making interbank and other bank money transfers and much more. This, in turn, will give customers 24 hours, 365-day access to the bank's services and facilitate a more personalised experience. Speaking about the app, Head of IT Dinil Perera stated: "The SDB mobile app is built on the core attributes of being simple, fast and secure. Each of these features simplifies a complicated, tedious banking transaction to be carried out at the convenience of fingertips. Currently, we cater to the most essential of the customer requirements but as we go along, we will continuously improve the app to provide a 360-degree experience to our customers." SDB bank is a licensed specialised bank regulated by the Central Bank of Sri Lanka and listed on the Main Board of Colombo Stock Exchange with a Fitch rating of BB+ (Stable), which offers a wide range of financial services for a cliental of all walks of life. The bank's main focus is to provide groundbreaking financial solutions to the SME and cooperative sectors. The bank takes pride in its 94 branch network and over 5,000 ATM points which makes SDB that much closer to the end consumer. The bank is now geared for the FINTECH storm with its latest acquisition of the multifaceted UPAY platform.