---
OMO outright auctions conducted for the first time in over five months
By Wealth Trust Securities

The short tenure bond yields were seen dipping marginally yesterday on the back of buying interest ahead of today Treasury bond auctions. The 2021 maturities (i.e. 01.05.21, 15.10.21 & 15.12.21), 01.10.22, 15.06.24, 01.08.26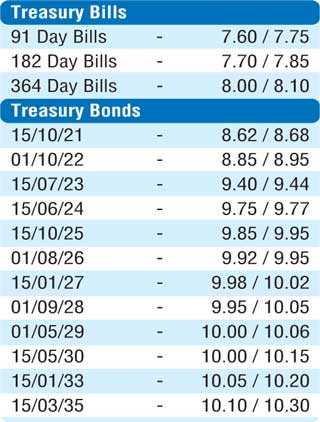 and 15.01.27 saw its yields dip to intraday lows of 8.50%, 8.65%, 8.69%, 8.95%, 9.73%, 9.95% and 10.00% respectively against its days opening highs of 8.50/55, 8.68/70, 8.73/80, 8.85/00, 9.78/80, 9.90/95 and 9.98/00.

Today's Treasury bond auction will see an total amount of Rs. 15 billion on offer consisting of Rs. 5 billion on a 8 year and 9 month maturity of 01.05.28 and Rs. 10 billion on a new 20 year maturity of 15th August 2039. The weighted average yields at the auctions conducted on 27 June for the maturities of 15.06.2024 and 15.03.2035 were recorded at 9.83% and 10.59% respectively.

The total secondary market Treasury bond/bill transacted volumes for 7 August was Rs. 6.71 billion.

The Open Market Operations (OMO) department of Central Bank continued to infuse liquidity yesterday, this time around by way of outright purchases of Treasury bills, a move last seen on 22 February. An amount of Rs. 15 billion in total was offered to be injected for durations ranging from 91 days to 203 days but only an amount of Rs. 0.22 billion was accepted from the 203 day maturity at a weighted average of 7.77%. A further amount of Rs. 19.75 billion was injected by way of an overnight reverse repo auction at a weighted average of 7.82% as call money and repo averaged 7.84% and 7.89% respectively for the day. The net liquidity surplus stood at Rs. 21.22 billion.
Rupee appreciates further
The USD/LKR rate on spot contracts appreciated considerably yesterday to close the day at Rs. 176.90/00 against its previous day's closing levels of Rs. 177.40/50 on the back of continued selling interest by banks.

The total USD/LKR traded volume for 7 August was $ 82.40 million.

Some of the forward USD/LKR rates that prevailed in the market were 1 month - 177.45/60; 3 months - 178.40/70 and 6 months - 180.10/40.