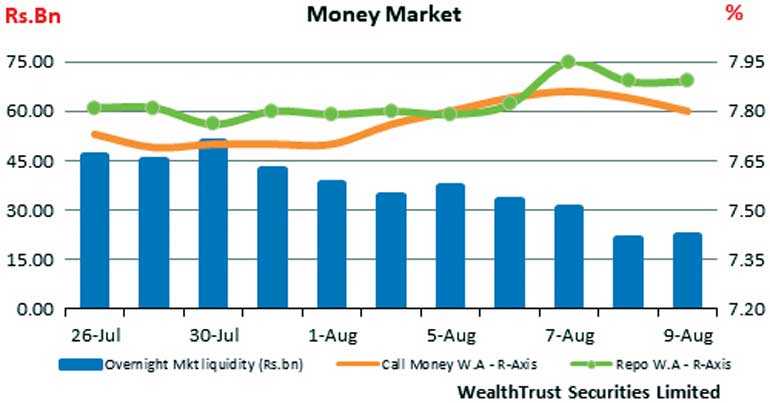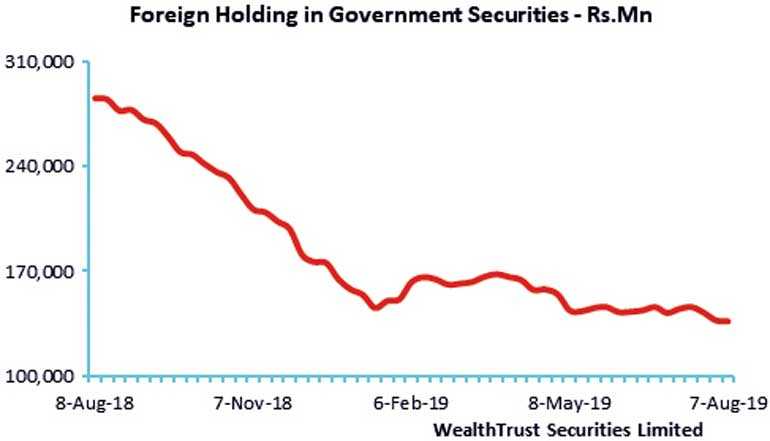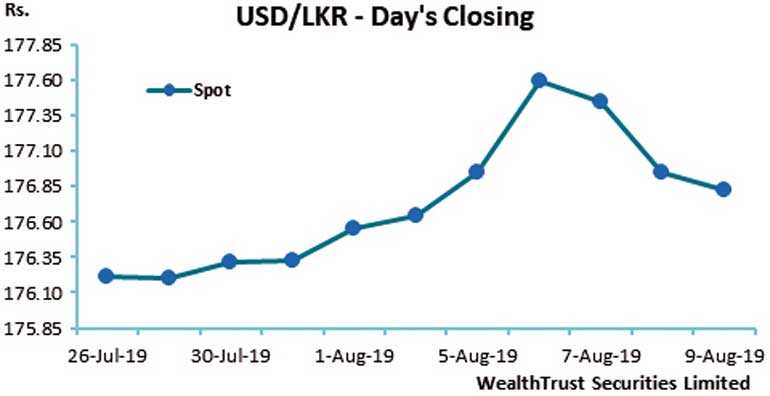 Bond auctions well received by investors
Foreign exodus continues for a third consecutive week
CBSL commences injecting liquidity
Rupee appreciates

By Wealth Trust Securities

The secondary market bond yields seesawed during the week ending 9 August 2019, initially increasing during the early part of the week and decreasing once again during the second half of the week as activity predominantly centred on the short end of the yield curve.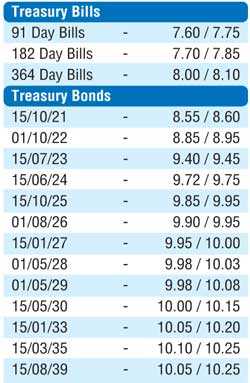 Selling interest during the early part of the week saw yields on the liquid maturities of two 2021's (i.e. 01.08.21 and 15.10.21), 15.07.23, two 2024's (i.e. 15.03.24 and 15.06.24) and 15.01.27 increase to weekly highs of 8.65%, 8.80%, 9.49%, 9.82%, 9.85% and 10.00% respectively against its previous week's closing levels of 8.57/60, 8.62/68, 9.32/37, 9.63/68, 9.68/70 and 9.85/90.

Nevertheless, buying interest subsequent to the weekly Treasury bill auction saw yields decrease once again to lows of 8.53%, 8.60%, 9.38%, 9.70%, 9.70% and 9.95% respectively. At the bill auction, weighted averages decreased across the board by 10, 09 and 10 basis points to 7.75%, 7.85% and 8.11% on the 91 day, 182 day and 364 day maturities respectively.

The two Treasury bond auctions conducted on Friday recorded impressive weighted average yields, with the total offered amount of Rs. 15 billion been successfully subscribed. The 8 years and 9 months maturity of 01.05.2028 recorded a yield of 10.00% while the 20 year maturity of 15.08.2039 recorded a yield of 10.29%.

The foreign holding in Rupee bonds continued to erode for a third consecutive week, recording an outflow of Rs. 729 million for the week ending 7 August 2019.

The daily secondary market Treasury bond/bills transacted volume for the first four days of the week averaged Rs. 8.22 billion.

The Open Market Operation (OMO) department of Central Bank commenced injecting liquidity during the week by way of reverse repo auctions and outright purchases of Treasury bills for the first time in over three months. The overnight reverse repo auctions injected liquidity at weighted averages ranging from 7.78% to 7.83% while the outright purchases recorded weighted averages of 7.77% and 7.75% for durations of 203 and 206 days respectively. The total liquidity stood at a surplus of Rs. 22.42 billion as overnight call money and repo averaged 7.83% and 7.87% respectively for the week.
Rupee closes stronger

The rupee on spot contracts closed the week higher at Rs. 176.80/85 in comparison to its previous weeks closing level of Rs. 176.60/68 subsequent to hitting an intraweek high of Rs. 177.75 on the back of selling interest by banks and export conversions. The daily USD/LKR average traded volume for the first four days of the week stood at $ 123.32 million. Some of the forward dollar rates that prevailed in the market were one month – 177.30/50; three months – 178.30/50 and six months – 180.00/30.