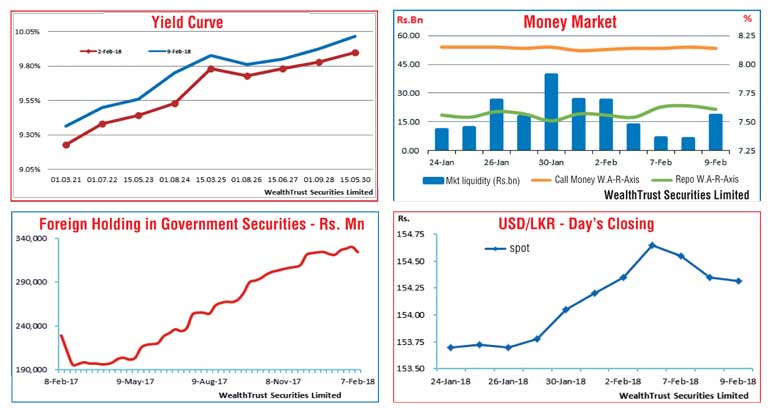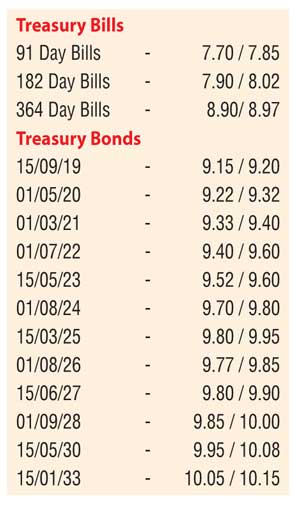 By Wealth Trust Securities

Activity in the secondary bond market slowed down considerably during the latter part of the shortened trading week ending 9 February ahead of local government elections.

Nevertheless, selling interest during the early part of the week saw maturities of the three 2019's (i.e. 15.01.19, 01.07.19 and 15.09.19), three 2021's (i.e. 01.03.21, 01.05.21 and 01.08.21), 15.05.23, 01.08.26, 15.06.27 and 15.05.30 increasing to weekly highs of 9.08%, 9.24%, 9.25%, 9.40%, 9.54%, 9.60% each, 9.81%, 9.85% and 10.02% respectively. The upward trend was further supported by the outcome of the weekly Treasury bill auction at where the weighted averages increased across the board. Furthermore, the foreign holding in Rupee bonds was seen turning negative for the first time in five weeks, as it reflected an outflow of Rs. 6.02 billion for the week ending 7 February.

The daily secondary market Treasury bond/bill transacted volume for the first three days of the week averaged Rs. 8.71 billion.

In money markets, overnight call money and repo rates remained mostly unchanged to average 8.14% and 7.61% respectively, as the average net surplus liquidity in the system stood at Rs. 11.25 billion for the week. The Open Market Operations (OMO) Department continued to drain out liquidity by way of auctions for outright sales of Treasury bills and repos at weighted averages ranging from 7.25% to 7.59% for duration ranging from overnight to 58 days.

Rupee closes the

week stronger

The USD/LKR rate on spot contacts dipped to an intraweek low of Rs. 154.69 during the early part of the week against its previous weeks closing levels of Rs. 154.30/40 before closing stronger at Rs. 154.28/35 on the back of selling interest by banks on spot and forward contracts.

The daily USD/LKR average traded volume for the three days of the week stood at $ 78.17 million.

Some of the forward dollar rates that prevailed in the market were one month – 155.03/13; three months – 156.65/75 and six months – 159.10/25.