182 day bill weighted average increases for the first time in four weeks
Foreign holding increases to a ten week high
Inflation increases to a six month high
By Wealth Trust Securities

Activity in the secondary bond market moderated towards the latter part of the week ending 29 September, driven by a slow-down in demand for LKR bonds by foreign investors and a rise in the yield of the 182 bill at the weekly Treasury bill auction, for the first time in four weeks.

The sluggish momentum was further supported by the inflation announcement for the month of September, where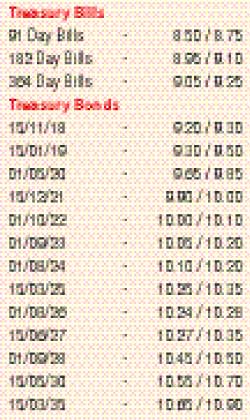 it increased for the second consecutive month to a six month high of 7.1% on the point to point as against the previous months figure of 6.00%. The annual average also increased to 5.8% when compared against the August figure of 5.5%.

Moderate volumes of the two 2021maturities (i.e. 01.03.21 and 01.05.21), and the 01.09.23 and 01.08.26 were seen changing hands within the range of 9.80% to 10.00%, 10.00% to 10.12% and 10.20% to 10.30% respectively against its previous weeks closing levels of 9.75/80, 9.78/85, 9.95/10, 10.15/22.

However, despite activity moderating towards the later part the week and yields increasing, the foreign inflow into rupee bonds was seen increasing to a 10 weeks high of Rs. 11.86 billion on a week on week basis for the week ending 27 September.

Meanwhile, the Central Bank of Sri Lanka kept its policy rates unchanged at 7.25% and 8.75% at its 06th monitory policy announcement held during the week.

The daily secondary market Treasury bond/bill transacted volumes for the first four days of the week averaged Rs. 5.08 billion.

In money markets, the overnight call money and repo rates remained mostly unchanged during the week to average at 8.09% and 7.98% respectively, as the Open Market Operations (OMO) Department of the Central Bank of Sri Lanka continuously drained out liquidity by way of an overnight repo auction at a weighted average of 7.25%. Nevertheless the net liquidity surplus in the system decreased to Rs. 14.90 billion on an average against its previous week's net surplus average of Rs. 34.22 billion.



Rupee deprecates

The USD/LKR rate on spot contacts was seen depreciating during the week to close the week at Rs. 153.05/15 against its previous week's closing level of Rs. 152.75/90 on the back of importer demand. The daily USD/LKR average traded volume for the four days of the week stood at $ 60.71 million.

Some of the forward dollar rates that prevailed in the market were one month – 153.95/05; three months – 155.55/65 and six months – 157.65/75.