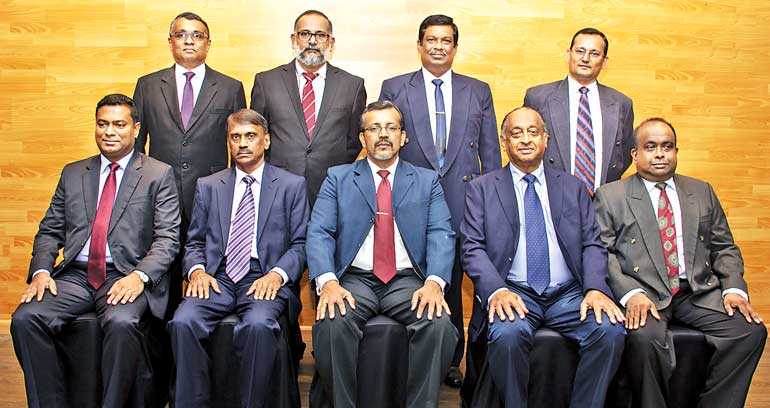 Council for 2019/2020 (seated from left): Chintana Goonetilleke (Treasurer), Sunil Siyasena (Vice President), Nalin Dharmasinghe (President), Nandalal Jayawardene (Secretary) and Pritha J. Fernando (IPP).Standing from left: Sujeewa Vidanapathirana, Charith Mahendrarajah, Chandana Ariyadasa and Ranjith Samarakoon. Absent: Udayanga Karunadasa
---
The Sri Lanka Insurance Brokers Association (SLIBA) celebrated 32 years as the main body of insurance broking professionals in the country recently.

Since its formation in 1987 SLIBA has been a driving force in the insurance industry and its senior office-bearers were instrumental in partnering internationally renowned insurance and reinsurance brokers such as Marsh, Willies and AON to introduce the best insurance broking practices with the blessings of SLIBA, enabling internationally recognised insurers and re-insurers to enter the Sri Lankan market.

In recognition of 14 years of hard work, the Insurance Board of Sri Lanka granted approval in October 2001 to the Sri Lanka Insurance Brokers Association to function as an approved association of insurance brokers in terms of Section 79 of the Regulation of Insurance Industry Act.

Since 2001, SLIBA has been a driving force for change in the Sri Lankan insurance broking industry. It has worked very closely with IRCSL and IASL and supported certain regulatory reforms preserving the rights of the insurance broking community and also encouraged higher educational standards for insurance brokers through SLII and other educational providers and introduced a strong and independently administered code of practice for members.

At the association's 32nd Annual General Meeting held on 23 December at the OPA Auditorium, Nalin Dharmasinghe was selected as President of the body. SLIBA's council for the 2019/2020 period was also appointed.