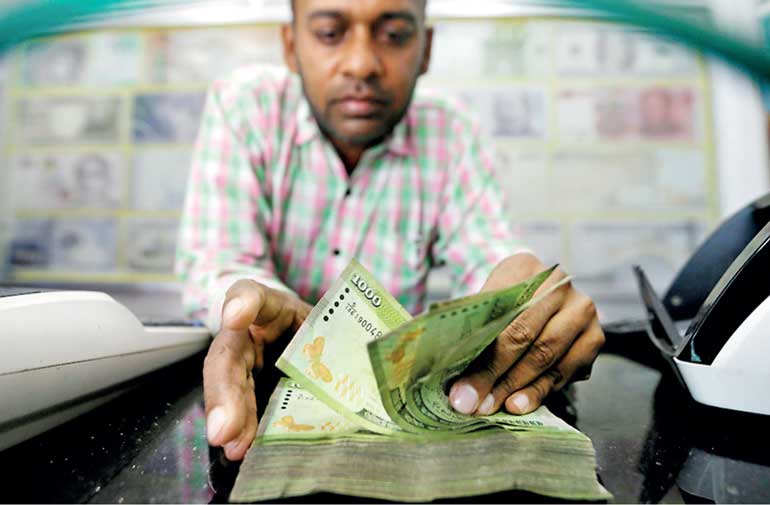 Reuters: The Sri Lankan rupee ended down yesterday after hitting a record low during the day as foreign investors sold government securities following local election defeats at the weekend for ruling coalition parties.

President Maithripala Sirisena's centre-left Sri Lanka Freedom Party (SLFP) and Prime Minister Ranil Wickremesinghe's centre-right United National Party (UNP) suffered defeats, raising concerns over the future of the unity government.

The surprise win by a political party backed by former President Mahinda Rajapaksa, who lost the presidential poll in 2015, could undermine the island nation's unity government and its reform agenda, analysts said.

Rajapaksa's Sri Lanka Podujana Peramuna (SLPP) won control of 231 local councils out of a total 340 while Wickremesinghe's centre-right United National Party (UNP) took 34 councils and the rest were split among other parties. Rajapaksa on Monday called for fresh elections following the local council polls, which marked the strongest rebuff yet to the unity government.

The rupee, which traded at record low of 155.00 during the day, ended at 154.95/155.05 per dollar yesterday, compared with 9 February's close of 154.27/35 per dollar. It surpassed its previous all-time closing low of 154.60/70 hit on 6 February.

"There were selling on (treasury) bonds by foreigners due to the political uncertainty and also the EU listing of Sri Lanka on a money laundering blacklist," said a currency dealer.

"Rupee will be under pressure to depreciate until we see a solution to the political uncertainty or giving confidence to the market."

Last week the rupee held steady compared to the previous week, but it has fallen 0.95% so far this year, Thomson Reuters data showed.

Dealers said they expected the currency to be pressured by continued demand by importers for dollars.

They expect 2-3% depreciation in the rupee and higher volatility this year on account of debt repayments by the government. The rupee fell 2.5% last year and 3.9% in 2016.

President Maithripala Sirisena's administration must repay an estimated Rs. 1.97 trillion ($ 12.85 billion) in 2018 - a record high - including $2.9 billion of foreign loans and a total of $ 5.36 billion in interest.

Foreign investors sold a net Rs. 6.03 billion worth of government securities in the week ended 7 February. The outflow reversed the foreign holding of government securities to a net outflow of Rs. 171.4 million so far this year up to 7 February, central bank data showed.

The markets will be closed for a public holiday today. Normal trading will resume tomorrow.