From left: Varuna Mallikarachchi (CBSL), Oko Tshering (RMAB), Mihindu Rajaratne (LFSBL), Gayal Rupasinghe (CBSL), Tempa Rabgay (RMAB), Kezang Yuden (RMAB) and Prabodha Agalawatte (CBSL)
---
A delegation from the Royal Monetary Authority of Bhutan (Central Bank of Bhutan) visited Lanka Financial Services Bureau Ltd. (LFSBL) in December 2018 for a 'knowledge sharing' session organised by the Payments and Settlements Department of the Central Bank of Sri Lanka (CBSL).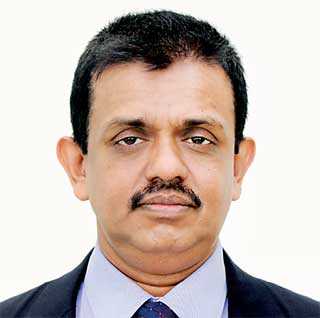 Central Bank of Sri Lanka Director, Payments and Settlements D. Kumaratunge
The interactive sessions were jointly conducted by the LFSBL and CBSL in order to provide a comprehensive understanding of the operations of SWIFT (Society for Worldwide Interbank Financial Telecommunication) and greater emphasis on the updated Cyber Security standards and protocols observed by the Central Bank of Sri Lanka.

Knowledge sharing sessions between the two parties focused on a range of topics including SWIFT system and Security features, responsibility of SWIFT Security Officers, Web based applications, flow of SWIFT messages, Relationship Management Application, Controls, Protocols to Mitigate Cyber Threats, Business Continuity Planning and Disaster Recovery planning and Established Resilience Measures.

The SWIFT Shared Infrastructure of Sri Lanka which is certified by the Shared Infrastructure Program (SIP) of SWIFT in SIPv1 and v2 standards and LFSBL is currently in progression to obtain the v3 standard which will, once again reiterate Sri Lanka's regional status of being in the forefront in setting the regional standards in payments and settlements systems, regulatory and security in the SAARC region.

Central Bank of Sri Lanka Director, Payments and Settlements D. Kumaratunge emphasised the significance of the delegation's visit as strengthening relations with the Central Bank of Bhutan and viewed it as an opportunity to share knowledge and best practices of Central Bank of Sri Lanka in the space of modernising national payment systems.