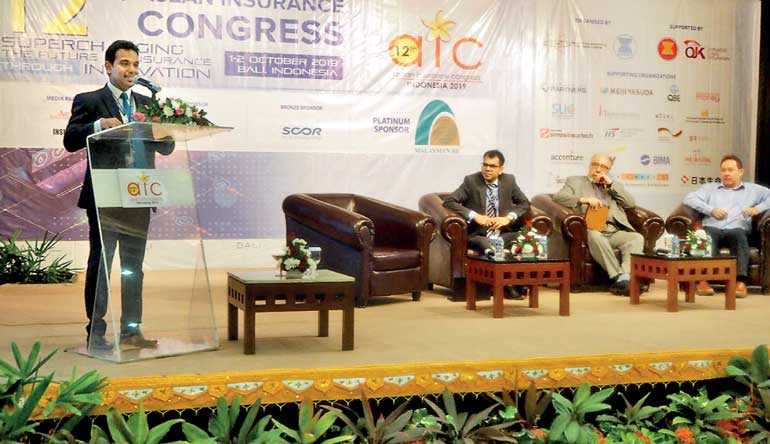 Roshan Collas addressing the 12th ASEAN Insurance Congress
Roshan Collas, Assistant General Manager Bancassurance and Alternate Distribution of Sri Lanka Insurance spoke at the 12th ASEAN Insurance Congress organised by the ASEAN Insurance Training and Research Institute (AITRI) under the auspices of the ASEAN Insurance Council (AIC). The conference was held in Bali, Indonesia on 1 and 2 October.

The theme of this year's Congress, 'Supercharging the Future of Insurance Through Innovation', sets the tone for discussions on how innovation and technological advancements are enabling the creation of new insurance products, services and business models to better serve and meet the needs of consumers.

Roshan Collas had the prerogative to be the moderator/panellist of session 8 to discuss cutting-edge issues and key considerations on The Advent of Distribution Innovated for Modern Insurance in respect of how to succeed in the areas of mitigation and resiliency in associated risks in terms of the professions in insurance.

The Congress is a platform for insurance industry leaders from ASEAN and neighbouring countries to participate in a regional forum to establish broader regional perspectives. The Congress also fosters discussions and collaborations within and across disciplines for the advancement of the insurance industry, promotes innovation and renews and strengthens fellowships and relations between ASEAN countries. The 2019 Congress saw over 100 insurance leaders from 12 countries from the Asia-Pacific region.