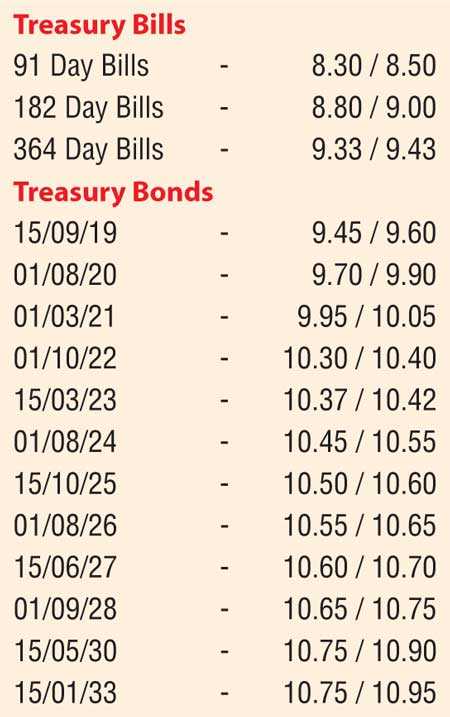 Secondary market bond yields ease marginally
By Wealth Trust Securities

The two Treasury bond auctions conducted yesterday recorded impressive weighted averages with the total offered amount of Rs. 80.00 billion being successfully subscribed.

The seven-year and three-month maturity of 15.10.2025 recorded a weighted average of 10.53% while the 14 years and six-month maturity of 15.01.33 recorded a weighted average of 10.88%.

Activity in the secondary bond market picked up yesterday as yields eased marginally, mainly on the 15.03.23 maturity to an intraday low of 10.38%.

In addition, on the short end of the curve, the maturities of 01.07.19 and 15.09.19 changed hands within the range of 9.45% to 9.55% respectively while on Treasury bills, February and April 2019 maturities changed hands at levels of 9.10% and 9.25% respectively.

The total volume of Treasury bonds/bills transacted in the secondary market on 11 July 2018 was Rs. 3.8 billion.

In money markets, the overnight call money and repo rates averaged 8.48% and 8.35% respectively as the OMO Department of Sri Lanka injected an amount of Rs. 15.00 billion on an overnight basis by way of a reverse repo auction at a weighted average of 8.46%. The net liquidity shortage stood at Rs. 17.83 billion yesterday.
Rupee depreciates marginally
The rupee on spot contracts was seen depreciating once again to close the day at Rs. 159.35/50 against its previous day's closing levels of Rs. 159.25/35 on the back of renewed importer demand.

The total USD/LKR traded volume for 11 July 2018 was $ 54.50 million.

Some of the forward USD/LKR rates that prevailed in the market were one month - 160.20/40; three months - 161.85/15 and six months - 164.25/55.