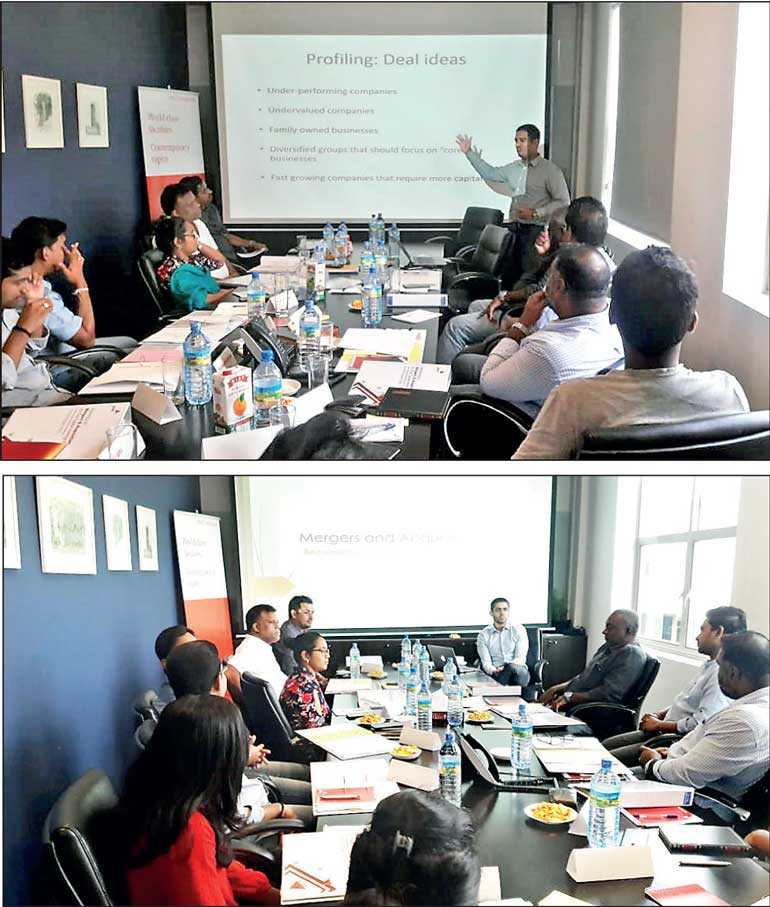 ---
PwC's Academy Sri Lanka, the executive education arm of PricewaterhouseCoopers (PwC), recently helped one of the country's prominent investment banks, First Capital Holdings PLC to master the art of Mergers and Acquisitions as well as Credit Evaluation during two specialised workshops exclusively organised for the senior management of the firm.

The workshops brought together local and international resource personnel who walked participants through a host of pertinent areas important for investment banks in the current context.

The two-day workshop on Mergers & Acquisition (M&A), was conducted by Thulci Aluwihare, a well-known financial advisor who has been involved in over 100 M&A transactions both locally and internationally and Kavinda Weerakoon, Associate Director – Mergers & Acquisitions of PwC Sri Lanka who helped participants understand the pros and cons of a Mergers & Acquisition an alliance.

The resource personnel also shared important insights on how to carry out successful M&A negotiations, and due diligence covering financial, tax and legal, while also shedding light on the entire M&A process and how to carry it out from start to end, covering selling the business, finding the investors and acquiring the business.

The second workshop on credit evaluation was organised to help the participants gain an in-depth knowledge on how it has become increasingly important for banks including investment banks to perform in-depth credit investigation and gain knowledge on the business risks when lending to customers.

The faculty comprised Arnold Lim, who comes with 26 years of banking experience in Asia, who also serves as an Instructor at Euromoney Training. The second resource person was Sanjaya Pinidiya, a professional banker with 25 years of extensive work experience including seven years in the Middle East and 13 years with a multinational organisation.

During the two-day credit evaluation workshop held in December 2018, both Lim and Pinidiya covered some important areas focusing on evaluation of a credit worthiness of an individual, to credit risk assessment, as well as financial forecasting, and drawbacks in credit appraisals among other pertinent areas. The workshop was further complement with case studies and group exercises which helped the participants gain a better understanding on what was delivered by the experts.

PwC's Academy has fast gained a reputation as a trendsetter in Sri Lanka offering cutting edge world class executive educational programs for professionals who aspire to be movers and shakers of the corporate world. PwC's Academy also offers customised training sessions catering to the requirements of all business portfolios spanning finance and non-finance industries.