HSBC Sri Lanka Director Perry Savundranayagam was appointed Asia President of the Paris-based global financial markets professionals' body ACI.

ACI Financial Markets Association (ACI) is a leading global trade association representing the interests of the professional financial markets community.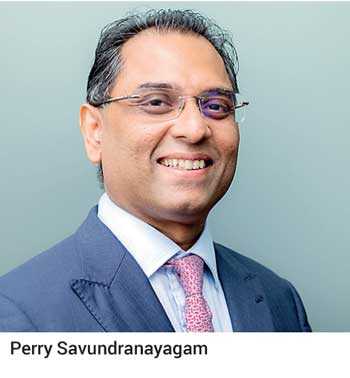 Established in 1955, ACI is focused on enhancing best market practices and supporting market participants to adhere to principles of ethical conduct. As a condition of membership, all ACI members are required to accept the principles of behaviour and market practice contained in the FX Global Code and other market-applicable Codes of Conduct. ACI's suite of education, certification and attestation products and services, its committees and industry working groups and global network of National Associations provide a comprehensive framework for education, support and advice for individuals and organisations operating in today's financial markets. Today, ACI's 9,000 members are present in 63 countries across the globe from the America to Asia. In Sri Lanka, the ACI examinations are recognised as qualifications for being employed in a Treasury and global markets environment.

Savundranayagam is the first Sri Lankan to be appointed to ACI's Management Board, representing Asia as its Regional President. A long-standing member and a former President of the Sri Lanka Forex Association, Perry has been a member of ACI since 2006 and actively involved with ACI internationally, serving as a member of the ACI Board of Education since 2011 and as its Vice Chair from 2014 to 2019.

With more than 20 years of experience in the industry, Perry currently heads Global Markets Corporate Sales for HSBC in Colombo.