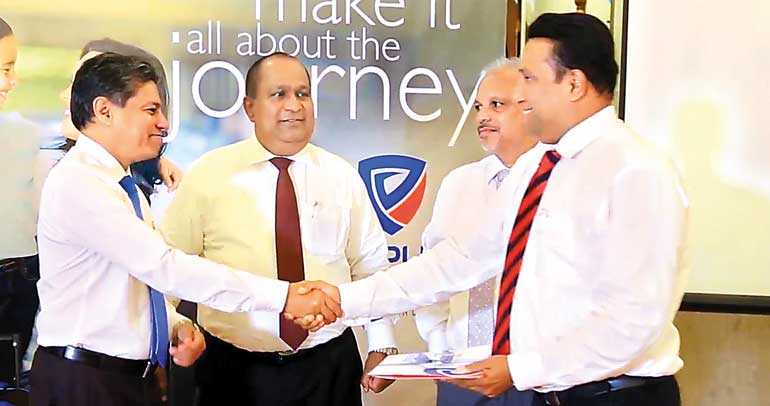 People's Bank CEO/GM N. Vasantha Kumar, People's Leasing and Finance CEO Sabry Ibrahim and People's Insurance CEO Deepal Abeysekera presenting People's TravelSmart Insurance Policy to Finlay's Insurance Brokers CEO Sanjiv Keerthiratne
---
Special rates for families, groups and children below 18
No medical reports required up to 80 years of age
Multiple-trip cover available for 2 year time periods


When you care, you wish to protect. This is the very reason why People's Insurance has strived until it has succeeded in providing the kind of insurance coverage, which lets people know that who they are and the things they value matter. Being one of the trusted insurance giants in the country, People's Insurance now endeavours to offer a feeling of real security to those who venture away from the country's shores. For this purpose, the company will be officially launching their new travel insurance product, People's TravelSmart Insurance.

With its highly attractive, competitive pricing, TravelSmart Insurance is a must-have for those who wish to be relaxed travellers; whether the reason for the journey is business, enjoyment, or just about any other purpose. This policy's coverage includes accidents to persons, cancellation of a trip, loss of personal belongings including baggage and money, medical treatment needed while away from the country, and much more.

According to People's Insurance Head of Operations Jeevani Kariyawasam, coverage by TravelSmart ensures that third party service providers will be available to step in, in the case of things such as health emergencies. Also, during incidents of sickness or accidents, lest the traveller be unable to journey back home, this policy allows for a family member to be brought to the location of the traveller instead. Any minors accompanying such sick or injured persons will also be safeguarded under the policy.

TravelSmart takes into account the age-related diversity of potential clients. Children aged less than 18 can benefit from a 50% discount, while all those under 80 years of age who take out a policy can do so without even the prerequisite of a medical report.

The unique features of this travel insurance scheme comprise special multi-trip coverage for frequent travellers from which they can benefit for a period of two years. Added to this is the fact that the insurance plan's rates are more attractive than many others of its kind.

Following its launch, People's TravelSmart will be made available through travel agents, insurance brokers and People's Insurance counter offices at all People's Leasing branches.

After careful and extensive research carried out on a journey-maker's needs, People's Insurance is now ready to serve the outbound traveller to have their travel cover under the name of People's TravelSmart Insurance; a venture that is bound to be a success as, just like any of People's Insurance's products, it will function in keeping with the policy of caring with love.