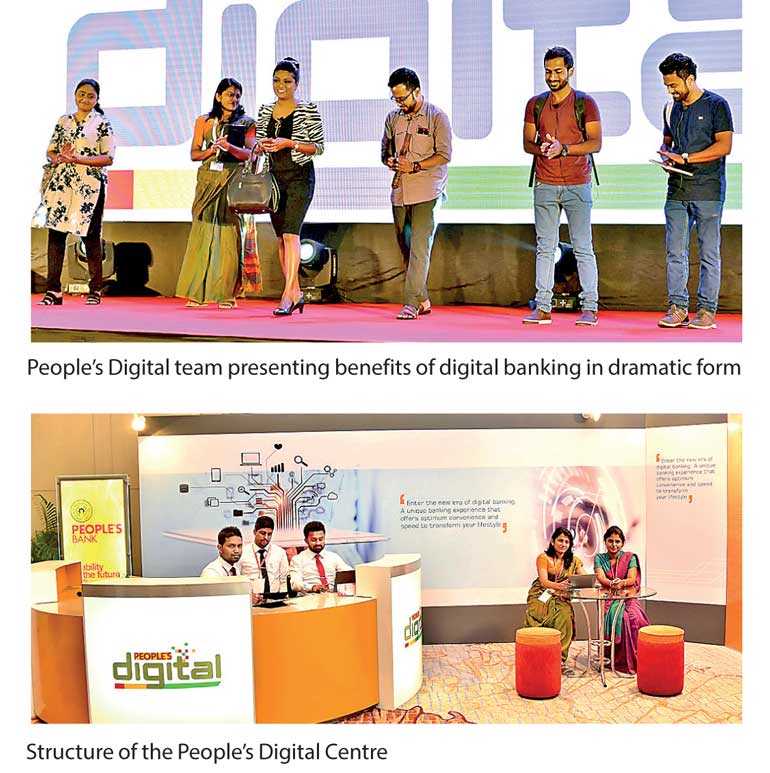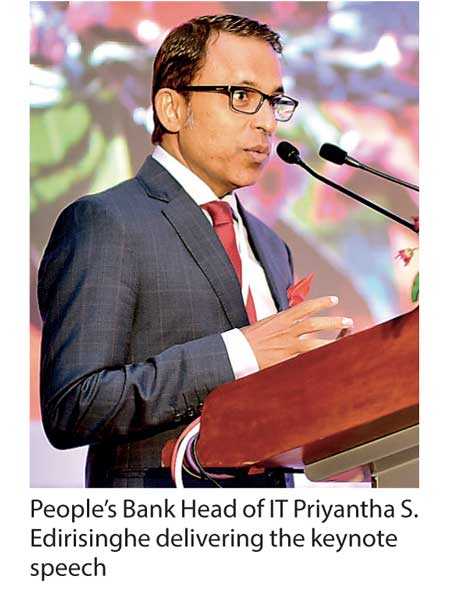 Consolidating its position as a digital financial services provider, People's Bank set the benchmark for digital financial services in Sri Lanka at the recently concluded National IT Conference (NITC) 2018.

Organised by the Computer Society of Sri Lanka (CSSL), NITC 2018 was held for the 36th time from 2-4 October at the Shangri-La Hotel, Colombo, with the participation of the crème de la crème of the country's ICT sector.

One of the largest ICT events to be held in the country, NITC 2018 was inaugurated by President Maithripala Sirisena, with over 500 IT professionals from diverse fields of specialisation attending the event. NITC is a premier platform for knowledge sharing among ICT professionals in Sri Lanka, and acts as a channel to transfer international and new knowledge into the country. The event, which also had Minister of Telecommunication, Digital Infrastructure and Foreign Employment Harin Fernando as the Guest of Honour, enabled discussion and sharing of ICT experiences and challenges, which contributes towards the enrichment of the national ICT knowledge base.

Representing the Sri Lankan financial sector's march towards digitalisation, Peoples' Bank, the trusted bank of the people of Sri Lanka, took on the mantle of Gold Sponsor of this pivotal national event. As a State-owned bank, Peoples' Bank has been on the vanguard of facilitating digital-financial services penetration into the rural hinterlands of the country and has recorded unmatched levels of success in supporting the nation's evolution into a digital society.

The success of the Bank's IT strategy within the past three-and-a-half years has already garnered many international accolades of recognition and appreciation, including by the prestigious Asian Banker. Such independent recognition has positioned People's Bank among the digital giants in the Asian region.

Addressing the august gathering at this premier ICT event, the People's Bank Head of IT Priyantha S. Edirisinghe gave a very enlightening keynote speech, sharing the Bank's journey of transformation from a traditional State bank into a modern, digitally enabled financial services provider that has lifted thousands of rural consumers onto digital platforms.

Edirisinghe, who spearheaded this national scale transition, made it clear that People's Bank has continued to remain true to its core values and its core customer base of rural consumers throughout this process of modernisation. "If you talk about our values, our values are interwoven into our rurals. That's our DNA. If you think about our base, 74% of the market is rural. So what People's Bank serves is the rural. That's where our strength is, and that's where we have tried to reduce our digital divide," stated Edirisinghe.

People's Bank is one of the largest financial service providers in Sri Lanka with a customer base of 10 million spread across the country, serviced through a massive branch network of 738 branches. Through its digital strategy, the Bank has successfully closed the gap between its customers and got closer to all stakeholders. In achieving this successful transition, Edirisinghe noted that the Bank has had to effect dramatic and ongoing changes to its entire business model, people and processes, to seamlessly integrate practical digital solutions across a multi-channel banking system, without disrupting customer loyalty.

To date, the ever-expanding digital footprint of People's Bank comprises a network of over 200 self-banking units island-wide, with six units inaugurated in Jaffa recently. Out of the branch network, 113 branches have now been digitally enabled. In addition, the Bank has 200 digital agents working in the market, dedicated to the Bank's digital deployment and transformation. These agents, said Edirisinghe, play a key role in transferring crucial market and stakeholder feedback to the Bank to continually refine its digital strategy deployment.

He noted that the Banks strategic ICT interventions into the service delivery model has successfully reduced the frictions associated with bill payments, deposits and withdrawals, while significantly enhancing customer convenience and speed of service delivery. In addition, the People's Bank mobile banking app, People's Wave, has emerged as one of the most popular financial services applications in the country, again demonstrating the Bank's ability to understand its customers' expectations.

Edirisinghe noted that customer responses on a daily basis clearly shows the rapid pace of technology adoption by Sri Lankan consumers, with ongoing channel migration from traditional bank tellers to digital units, including ATMs ,CDMs and KIOSKs. He noted that for the last six months, the number of self-banking transactions have increased by 68%, with counter transactions amounting to the value of Rs. 207 billion in the last nine months. Cash deposits via the Bank's CDM units have increased by 67%, amounting to Rs. 145 billion. "So, you can see the adoption. You can see the channel migration from tellers to the units. It is highly successful. This is the kind of initiative that works," said Edirisinghe.

People's Bank's digital account opening – which is a paperless, seamless, digitally integrated system – has increase by 75% with a deposit balance of Rs. 19 billion. "What is important is the transaction volume, not just opening accounts for Rs. 19 billion. They do about one million transactions valued up to Rs. 30 billion. These are digital sales. They are the real stuff," he said, describing the extent of digital transactions at People's Bank.

The multi-channel strategy of the Bank has continually improved with a new mobile banking app. While the Bank's old SMS banking app had about 800,000 customers, the new app, which introduced some 38 new functions, attracted about 100,000 customers within two to three weeks of its launch. According to Google Play, the number of transactions is about six million and the amount is Rs. 7 billion, demonstrating the high level of public response.

The transformation of People's Bank into a fin-tech company has been accompanied by a rejuvenation of its brand image. The Bank was rebranded with vibrant colours, making it stand out from the crowd and clearly signalling the change in its direction. In addition, the Bank has invested heavily towards unearthing internal talent and reorienting its nearly 10,000-strong employee base wherever possible, instead of spending on external consultants.

Edirisinghe noted that this move to dig deeper into the Bank's own human resource pool has contributed towards greater employee empowerment, while enhancing the Bank's value creation capabilities.

Today, People's Bank's digital journey over the past three years is gaining international coverage with the Asia magazine featuring the story of the Bank's transformation. "The ICT sector in the country should be proud that a State bank is recognised and talked about at this level," he articulated.

Sharing some tips regarding the Bank's successful transition, Edirisinghe highlighted the paramount importance of technology friendly and visionary leadership. He noted that legacy boards, or traditional boards of directors, with no technology representatives and no technology-based vision, were the primary obstacles preventing organisations from successfully adopting and deploying digital strategies that revolutionise how they operate. He acknowledged that in this regard, People's Bank has had the advantage of a visionary Chairman and CEO/GM who gave leadership and support to drive the Bank's digital strategy, despite the many challenges faced in its execution.

Looking to the future of Sri Lanka's technological revolution, he called for greater emphasis on business analysis skills, which the country is still lacking. He noted that subjects such as data mining should be introduced to industries to make use of the massive volumes of data collected through digital systems, to continually improve and innovate digital products and services.

However, currently Sri Lanka lacks the trained personnel to provide data mining services to organisations.

Another area for future development, said Edirisinghe, is in application program interfaces (API) to drive the country's digital transformation. He concluded that meanwhile, the Sri Lankan public can expect many more exciting new digital products and services from People's Bank as it continues to expand its digital footprint across the country.