Foreign demand for local bonds decrease
By Wealth Trust Securities

The secondary bond market became active during the week ending 22 November, with yields decreasing considerably during the early part of the week prior to increasing once again during the latter part, resulting in a steep parallel shift downwards of the overall yield curve.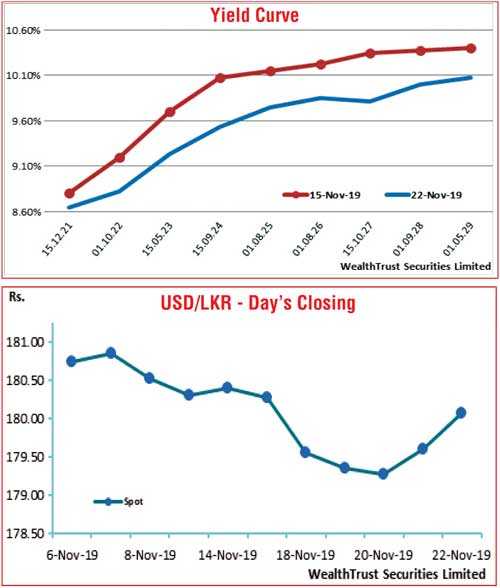 Furthermore, the weighted average yields of the 364-day bill at the weekly Treasury bill auction also decreased by 29 basis points, for the first time in four weeks.

Most of the trades concluded, consisted of the 2023s (i.e. 15.05.23, 15.07.23 and 15.12.23), 2024s (i.e. 15.03.24, 15.06.24 and 15.09.24) and 15.10.27 with the respective yields dipping to weekly lows of 9.12%, 9.15% each, 9.35%, 9.33%, 9.35% and 9.68% on the back of high volumes, when compared against the previous weeks closing levels of 9.65/75 each, 9.75/85, 9.95/05, 10.03/08, 10.05/10 and 10.32/38.

However, selling interest at these levels resulted in yields increasing once again to hit highs of 9.25%, 9.23%, 9.50% each, 9.55% and 9.82% respectively on the maturities of 15.05.23, 15.07.23, 15.03.24, 15.06.24, 15.09.24 and 15.10.27, while the 2021s (i.e. 01.03.21, 15.10.21, 01.08.21 and 15.12.21), 01.10.22, 01.08.26 and 15.09.34 were seen changing hands at levels of 8.35% to 8.70%, 8.70% to 9.10%, 9.70% to 10.05% and 10.20% to 10.50% respectively.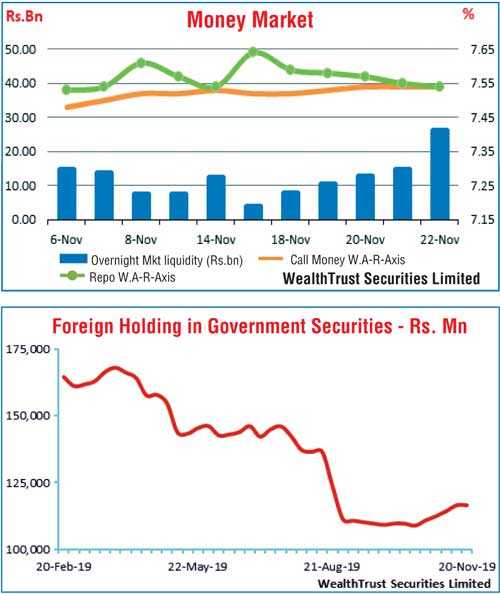 In the secondary bill market, October and November 2020 maturities were seen trading at levels 8.10% to 8.15% and 8.15% to 8.20% subsequent to the auction.

Foreign buying in rupee bonds reduced to a near zero level recording a meagre Rs.0.21 million for the week ending 20 November 2019 following four consecutive weeks of inflows of Rs. 1.5 billion and above.

The daily secondary market Treasury bond/bills transacted volume for the first four days of the week averaged Rs. 20.26 billion.

In money markets, the overall liquidity in the system improved to a surplus of Rs. 6.4 billion against its previous week's deficit of Rs. 17.9 billion. The Overnight call money and repo rates averaged 7.53% and 7.57% respectively, as the Open Market Operations (OMO) Department of Central Bank injected liquidity during the week by way of overnight and 14-day reverse repo auctions at weighted average yields of 7.52% to 7.53% and 7.63% respectively.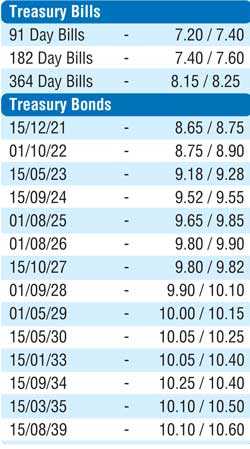 Rupee fluctuates

In the Forex market, the USD/LKR rate on spot contracts were seen trading within the range of Rs. 178.98 to Rs. 180.15 during the week before closing at levels of Rs. 180.00/15 against its previous day's closing levels of Rs. 180.25/30.

The daily USD/LKR average traded volume for the first four days of the week stood at $ 83.97 million.

Some of the forward dollar rates that prevailed in the market were one month – 180.40/60; three months – 181.40/60; and six months – 183.20/50.