Panel discussion, from left: GCPF Energy Specialist Sathish Dhanapal, UoM Senior Lecturer Dr. Thusith Sugathapala, Senior Lecturer Dr. Milinda Pathiraja, GCPF Head Green Lending Luke Franson, Sri Lanka Sustainable Banking Initiative Representative Hemantha Seneviratna and compere Mahesh Senanayake
---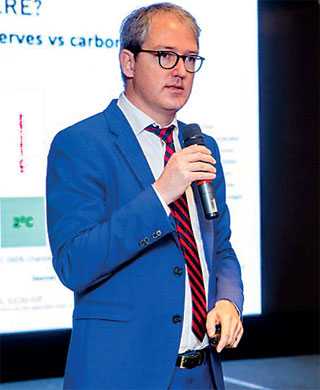 GCPF Head Green Lending Luke Franson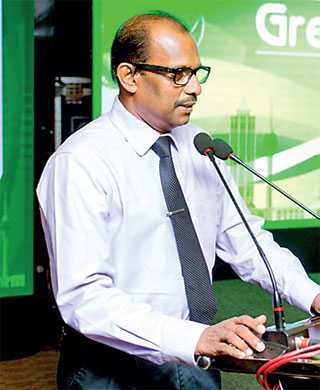 Sri Lanka Sustainable Energy Authority Director General Ranjith Sepala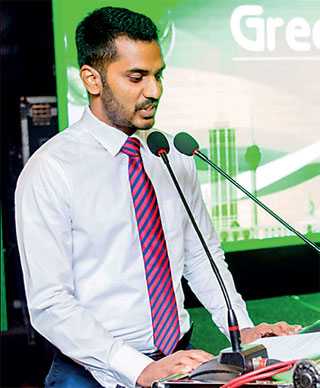 Pan Asia Bank Senior Dealer Treasury Sabapathy Kuganes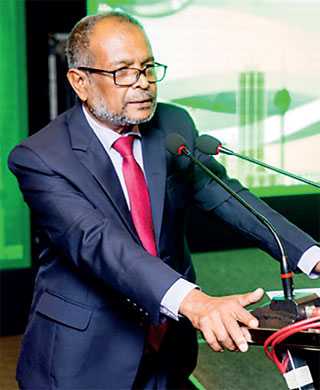 Pan Asia Bank Director and CEO Nimal Tillekeratne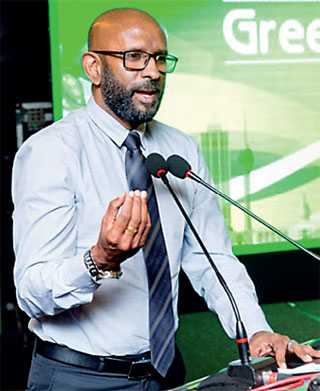 Pan Asia Bank Deputy General Manager Branch Credit Naleen Edirisinghe
Pan Asia Banking Corporation PLC last week took the initiative in addressing climate change which has reached new depths in threatening the ecological balance in the world.

The bank was among early pioneers of introducing green lending in Sri Lanka,is collaborating with the Global Climate Partnership Fund (GCPF). The Fund is a global public-private partnership managed by responsAbility. It aims at mitigating climate change via leveraging private capital in developing and emerging markets to channel funds into areas and projects which can curb the adverse effects and impacts from a changing climate – a process referred to as climate finance.
To champion this cause, Pan Asia Bank, supported by GCPF, organised an event titled 'The Future is Green Sri Lanka 2019' held at Cinnamon Grand Colombo on (date).

The event was attended by a very diverse group of participants including representatives from Sri Lanka Sustainable Energy Authority, Regional Development Department of CBSL, Sri Lanka Sustainable Banking Initiative and renowned academics from the University of Moratuwa (UoM).

UoM Senior Lecturer Dr. Thusitha Sugathapala delivered the key note address and presented the participants with insights on climate change, specifically in the context of Sri Lanka, and the remedial actions taken by the government to mitigate the impacts, stressing the need to do more. His colleague Dr. Milinda Pathiraja, also from UoM, gave a fresh perspective on the institutional footprint and the benefits of green buildings.

Addressing the gathering, Pan Asia Bank Chief Executive Officer Nimal Tillekeratne pledged his continued support towards the climate finance initiative.

"We are holding this event to raise awareness on climate change and sustainable development in the country. I'm very happy to see the interest amongst our clientele and the key people in all related organisations. I hope you will find the event very valuable and encourage you to start think green. Pan Asia Bank remains deeply committed to finance the sustainable development and apprehend this very imperative issue," Tillekeratne said.

Addressing the event, GCPF Head of Green Lending Luke Franson explained the impact of climate finance and the GCPF's role in climate mitigation. As part of its mandate, the GCPF finances projects targeting small and medium-sized businesses and private households, specifically energy efficiency projects that reduce projected greenhouse gas emissions by at least 20% and renewable energy generation projects.

Franson also briefed how it supports their partner financial institutions, in this case Pan Asia Bank in facilitating climate finance.

"The fact that climate finance also provides for a viable business case, this creates great opportunities for a win-win situation across sectors and industries," commented Pan Asia Bank's DGM – Branch Credit Naleen Edirisinghe.