---
Orient Finance recently announced the appointment of an industry veteran, K.M.M. Jabir as its CEO, in a move that consolidates its position as a leader in the financial services industry.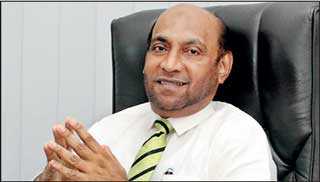 K.M.M. Jabir


Widely respected as an industry veteran and a senior finance sector personality with a stellar career that spans over 33 years, Jabir brings with him exceptional insights and a wealth of industry expertise to Orient Finance.

"I take great pleasure in joining the Orient Finance team, spearheading a new level of customer focused growth and expansion," says Jabir, commenting on his new appointment.

Prior to joining Orient Finance, Jabir held the position of Executive Director/CEO at Richard Peiris Finance, where he played a key role in driving new business opportunities and growth as a founder CEO.

He has also worked for People's Leasing & Finance, where he was able to carve a niche for himself for exceptional performance and was recognised for his outstanding contribution to the organisation.

Jabir takes over duties at Orient Finance at a crucial time defined by challenging economic dimensions and expanding customer needs; the Company recently celebrated 38 years in operations as an industry leader, marking a legacy of serving customers and meeting their needs across markets with an extensive portfolio of financial services.

Commenting on the appointment, Orient Finance PLC Chairman Dr. Dayanath Jayasuriya PC states that the new CEO has joined them at a time when the Company is looking to strengthen its position as a market leader. "Orient Finance has always been customer oriented in its philosophy, delivering customised plans that offer flexibility and assure a competitive edge. As we seek to fulfil customer expectations that have grown over time, we are indeed pleased to welcome Jabir who will help to steer the Company towards greater growth through an exceptional service level delivery to our valued customers."

As an ICRA rated Sri Lankan finance company with a sound operational base, Orient Finance has created a strong network of operations throughout the country with 31 branches and convenience centres located in all major cities.

Having built strong customer loyalty through a robust portfolio of services from leasing facilities for SUVs, cars and three wheelers to gold loans, Orient Finance remains poised towards growth and stability.

The Company is listed on the Colombo Stock Exchange and the Board of Directors consists of Dr. Dayanath C. Jayasuriya PC, Chairman, Prakash A. Schaffter, Non-Executive Director, Ramesh Schaffter, Non-Executive Director, K.M. Anil T.B. Tittawella PC, Non-Executive Independent Director, Minette D.A. Perera, Non-Executive Director, Indrani Goonesekera, Non-Executive Independent Director and N. Sriyan S. Cooray, Non-Executive Independent Director.