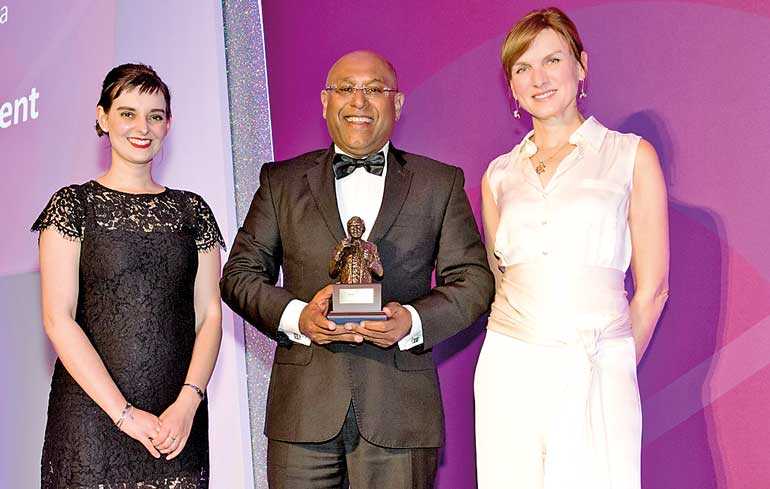 From left: Asia Editor Kimberley Long, NDB Director/GCEO Dimantha Seneviratne, and Fiona Bruce – BBC
---
The National Development Bank PLC was felicitated with the most coveted global banking award – the 'Bank of the Year in Sri Lanka 2018' presented by The Banker UK.
NDB Director/Group CEO Dimantha Seneviratne accepted this award on behalf of NDB at a presentation ceremony held in London, UK amidst over 400 senior bankers from across the globe.

"The year 2018 has been a significant year for NDB, and this award is a testament to NDB's strong management skills, significant growth and noteworthy performance in the balance sheet," Seneviratne said.

The comprehensive evaluation for the Bank of the Year awards named after Brendan Bracken, the founding editor of 'The Banker' in 1926 and Chairman of the Financial Times from 1945 to 1958, covers qualitative achievements, strategic initiatives, financial results, growth rates and performance data as well as other aspects such as technology and innovative processes.

The Banker – UK 'Bank of the Year' award comes in the backdrop of NDB being recognised as the Best Bank in Sri Lanka by the coveted awards program of the Global Finance USA. As such 2018 marks a significant year for NDB where it won both these prestigious awards in one single year, which is a rare feat for a bank. In addition NDB won a number of other awards within the year 2018 including being named the 'Best Bank in Sri Lanka' by the Global Finance award, the Bank of the Year for 'Excellence in Customer Convenience' from LankaPay Technnovation Awards, and seven additional awards under three categories – Retail Banking Awards, Wholesale Banking Awards and Corporate & Investment Banking Awards by the Asian Banking & Finance Magazine of Singapore among others.

Commenting on the Banker award, Seneviratne stated, "Our relentless passion for exceptional customer service augmented by digital capabilities, and a committed team rallying around the one goal of taking NDB to great heights, have been the key enablers of our success." He dedicated this award to the Bank's shareholders, customers, staff members and all other stakeholders who support NDB's endeavours in charting a new course in banking for the development and success of our nation and its people.

NDB Bank is an affiliate of the NDB Group, one of the fastest growing financial services conglomerates in Sri Lanka. From its inception, the group which includes NDB Bank, NDB Investment Banking, NDB Wealth, NDB Securities, and NDB Capital has been a catalyst in the development of the nation, strengthening and empowering entrepreneurs, corporates and individuals from all strata of the economy, where customers across all group companies have benefited from the product and service offerings of the NDB group.