NDB's Bambalapitiya Private Wealth Centre Branch won the prestigious 'Best National Branch Award' at the NDB Retail Banking Awards 2018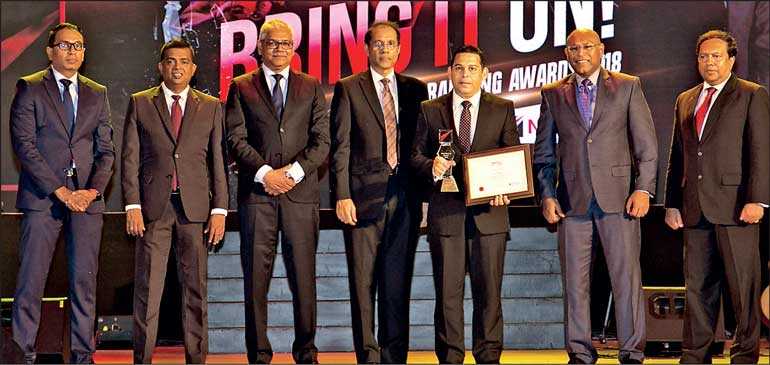 Best region Winner Colombo Region
---
NDB recently held its Annual Retail Banking Awards to encourage and motivate the achievers of the bank. The event was held at the Bandaranaike Memorial International Conference Hall on 2 March under the theme 'Bring It On'.

The award ceremony was attended by NDB Bank's Chairman Ananda Atukorala and Director/Group CEO Dimantha Seneviratne along with the leadership team, and staff of the bank.

This year, the Champion Award for Best National Branch was awarded to NDB's Bambalapitya Private Wealth Centre branch, 1st Runner-Up – NDB's Kottawa Branch and 2nd Runner-up – NDB's Marine Drive Branch. The Best Region Champion award went to the Colombo Region.

The NDB Retail Banking Awards was introduced in 2007 to recognise the performance of the Retail Banking staff of NDB. While the event itself gives prominence to recognising performance against the targets for the preceding year, it also contributes in developing a competitive sales culture and also encourages performance and excellence through a predefined and agreed structure.

The NDB Retail Banking Awards has now become the most sought after event to attend by the NDB branch network staff of the bank. Now in its 12th consecutive year, it has become one of the most spectacular events of the bank.

NDB Bank which is the first and to date the only corporate in Sri Lanka to officially be certified with EDGE Certification, the leading and only global certification for gender equality at work place, is the parent company of the NDB Group, one of the fastest growing financial services conglomerates in Sri Lanka, with the strategic mission to be the dominant leader in the financial services and banking sector.

From its inception, the group which includes NDB Bank, NDB Investment Banking, NDB Wealth, NDB Securities, and NDB Capital has been a catalyst in the development of the nation, strengthening and empowering entrepreneurs, corporates and individuals from all strata of the economy. Its customers across all group companies have benefited from the product and service offerings of the NDB group.