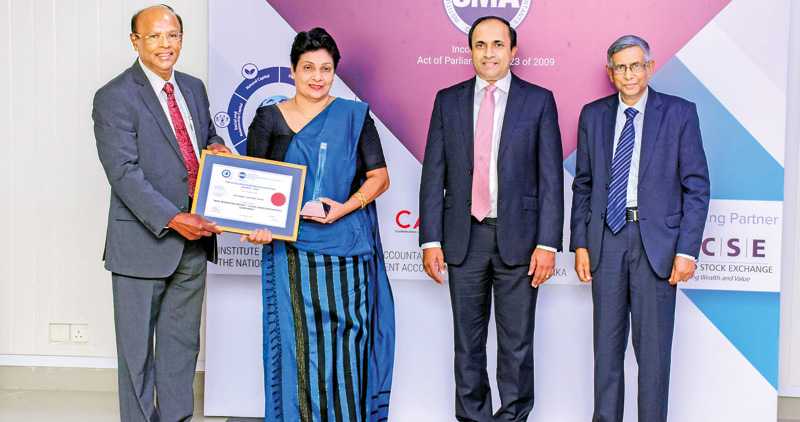 From left: CMA Sri Lanka Vice President Hennayaka Bandara, NSB Chairperson Keshila Jayawardana, Colombo Stock Exchange Director General Rajeeva Bandaranayke and CMA Sri Lanka President Professor Lakshman R. Watawala
---
National Savings Bank (NSB) has bagged prestigious awards for its Annual Report 2019 themed 'A Momentous Journey to the Future: Inspired by an Unfolding Digital Era' at the CMA Excellence in Integrated Reporting Awards held recently.

The awards are as follows.
Bronze award and adjudged the Overall Second Runner Up
An award for 'Ten Best Integrated Reports'
Best Integrated Report – State-Owned Enterprises/Companies
Best Disclosure on Value Creation
Being recognised as the Overall Second Runner Up, the bank becomes the first State bank to win an Overall Award at a CMA ceremony.
NSB's annual reports have been recognised by the International CMA Excellence Awards for many years for the high quality of its reporting with this being the third year in a row that the bank's Annual Report has been recognised and awarded by this body.

This awards ceremony is conducted by the Institute of Certified Management Accountants of Sri Lanka, which is the national professional management accounting institute of Sri Lanka, dedicated to creating qualified management accountants required to take both public and private sectors in the country to greater heights.

Currently CMA is a member of the International Federation of Accountants (IFAC), the global organisation for professional accounting bodies, South Asian Federation of Accountants (SAFA) and the Confederation of Asian and Pacific Accountants (CAPA).

According to CMA, the purpose of the Excellence in Integrated Reporting Awards is to promote Sri Lankan companies both listed and unlisted and State-owned institutions/companies to undertake integrated reporting which is beneficial for investors and stakeholders.

The integrated reports are evaluated using guidelines applicable in the International <IR> Framework issued in December 2013. The evaluation will consider not only the accounting and financial information, but also non-financial information provided in <IR>.

NSB Annual Report 2019 has also been victorious at many other national and international level awards ceremonies including CA Sri Lanka Annual Reports Awards, ARC Awards and South Asian Federation of Accountant (SAFA) BPA Report Awards.

Having established in 1972 through a Parliamentary Act that amalgamated four traditional savings organisations in the country into one establishment, NSB, at its inception, inherited a savings legacy of over a century from its predecessor, the Ceylon Savings Bank established in 1832. The bank was granted the status of a Licensed Specialised Bank (LSB) under the Banking Act No. 30 of 1988 to foster a savings culture in all Sri Lankans irrespective of class, race and gender.

Today the bank has flourished to be one of the strongest and safest financial institutions in the country, firmly rooted in the soils and the hearts of the people of Sri Lanka. Being true to its mandate, it is committed to fostering a healthy, sustainable, and secure savings protocol for all people of the nation by inculcating the savings habit and providing retail as well as corporate loans.

It serves the customers that belong to all segments of the Sri Lankan society and its products and services are aimed at catering to all banking needs of the people of all walks of life. More than 21.1 million accounts attest to its claim of being the bank for all segments of society. Its main business activities comprise retail banking, corporate banking, money remittances, foreign currency operations, treasury operations, etc.

The product portfolio of the bank is diverse and its customer base is solid. So is the bank's performance. Despite its specialised status, NSB stands tall among the financial giants in the island with an asset base of more than Rs. 1 trillion and a deposit base of over Rs. 1 trillion.

In its journey towards a better performance and thriving future for the bank, NSB continuously interact with its original mandate and the initial objective of its existence and ventures to welcome its customers with an efficient, disciplined and improved customer service that caters to their ever-changing expectations and needs.