There is growing recognition that the range of issues and opportunities affecting long term business value is much broader than what can be reflected in a set of current year financial measures.

In an effort to even better understand the dynamics of Better Business Reporting, KPMG in Sri Lanka hosted an interactive workshop titled 'Integrated Reporting: For Better Business Reporting' on 25 September to unravel the journey towards better business reporting and highlight the potential benefits of Integrated Reporting.

Commenting on the event, KPMG Sri Lanka Managing Partner Reyaz Mihular stated that, "The objective of the workshop was to share a 'big-picture' perspective to current corporate reporting and practical insights, on how application of Integrated Reporting principles can help corporates to effectively communicate their business stories."

The workshop was conducted by Michael Bray, Director of Better Business Reporting Group, KPMG Australia and KPMG Fellow in Integrated Reporting at Deakin University, Faculty of Business and Law. Michael's vast experience has been underpinned by a core objective – continually improving business reporting practices. He guides his clients and team towards improving the clarity of corporate reporting and the effectiveness of reporting strategies. Joining Michael as co-presenter was Dr. Luckmika Perera, Director of Professional Programs and Partnerships at Deakin University, Faculty of Business and Law. He manages all professional programs and executive education, including Integrated Reporting training.

Commenting on the business case for Integrated Reporting, Michael stated: "Integrated Reporting offers the opportunity to centre business reporting on the strategy and value creation process. Some organisations start this transition by enhancing the structure of their narrative reporting, but the true value over the journey is in the adoption of the Integrated Reporting framework as a whole."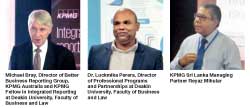 The discussion included the following: The potential benefits of Integrated Reporting; Current status of Integrated Reporting in Sri Lanka; Building on current reporting in Sri Lanka towards better business reporting; Integrated Reporting Management Systems and practical examples and Linking sustainability practices to a business model.

The journey to Better Business Reporting, culminating in an Integrated Report prepared under the IIRC's Integrated Reporting Framework, should be of particular interest to CEOs, CFOs and directors as they face the challenge of convincingly telling their organisation's 'story' to the markets, so that they can obtain capital at a reasonable cost. According to Michael, delivering an effective narrative report can be a challenge. It requires a clear vision of what is needed to tell the company's story.

"The response so far has been fantastic. There is definitely a keen interest for activating Better Business Reporting, based on the conversations I have had with our clients in Sri Lanka," says Michael. The benefits of improved business reporting through Integrated Reporting include more efficient capital allocation, streamlined reporting processes, reduced reporting costs and enhanced organisational clarity in terms of business strategy and the business model.

According to KPMG's second annual Survey of Business Reporting, on an evaluation of 270 annual reports from larger public companies in 16 countries, the short-term focus of corporate reporting is readily apparent. The survey highlights that of the reports surveyed: 44% do not look beyond short-term initiatives when discussing strategy; Only 9% provide a 5-year track record of operational performance and Only 11% show how a company's risk profile has been managed over time.



"The struggle is real and our aim is to bring our hands-on implementation capability, peppered with deep industry expertise to work with clients on their journey towards better business reporting, by implementing and enhancing their Integrated Reporting processes," says Reyaz. KPMG in Sri Lanka is one of the largest professional services firms and is also one of the oldest Chartered Accountancy firm in the country, spanning over a century since its inception in 1897. The firm presently has a resource base comprising of 17 partners and over 1,000 professionals and associates. The firm's sustainability practise has extensive experience of helping various clients to implement and enhance their Integrated Reporting processes.