Panel discussion on the economic analysis of the Budget featuring Dr. Nishan De Mel, Jagath Perera, Deshal De Mel, D. Soosaipillai, Mangala Yapa, and Dr. Rohan Fernando, with moderator Shamindra Kulamannage

Panel discussion on the tax perspectives of the Budget featuring Shamila Jayasekara, D.R.S. Hapuarachchi, Hiranthi Ratnayake, K.A. Vimalenthirarajah, N.R. Gajendran and Sulaiman Nishtar, with moderator V. Sivagurunathan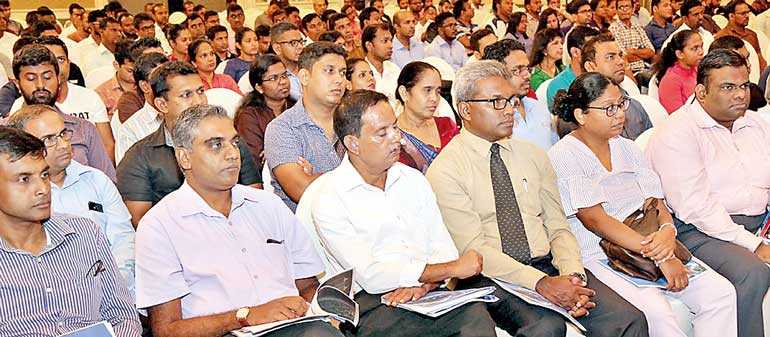 A section of the gathering at the CA Sri Lanka Budget Seminar 2019
---
Industry specialists representing diverse sectors recently evaluated the economic and tax perspectives arising from the 2019 National Budget at the CA Sri Lanka Budget Seminar, held recently at the Hilton Colombo. The event was attended by a large number of professionals, including Chartered Accountants. CA Sri Lanka President Jagath Perera delivered the welcome speech.
The first session kicked off with Verité Research Chief Executive Officer Dr. Nishan De Mel delivering an economic analysis of the Budget, followed by a panel discussion featuring subject specialists including CA Sri Lanka President Jagath Perera, Ministry of Finance Economic Advisor Deshal De Mel, Hatton National Bank PLC Director D. Soosaipillai, Ministry of Development Strategies and International Trade Technical Advisor Mangala Yapa, and Aitken Spence PLC Director and Plantations and Business Development Head Dr. Rohan Fernando. The session was moderated by Echelon Magazine Editor Shamindra Kulamannage.

The second session of the seminar focused on the tax perspectives of the Budget, with a presentation delivered by KPMG Partner Shamila Jayasekara on the topic. Her presentation was followed by a panel discussion featuring Department of Inland Revenue Senior Commissioner (Tax Policy, International Affairs) D.R.S. Hapuarachchi, CA Sri Lanka Tax Committee Chairperson Hiranthi Ratnayake, Department of Fiscal Policy Director General K.A. Vimalenthirarajah, Gajma & Co. Senior Partner N.R. Gajendran, and Ernst & Young Partner Sulaiman Nishtar. The second session was moderated by Consultants' Consortium Partner V. Sivagurunathan.