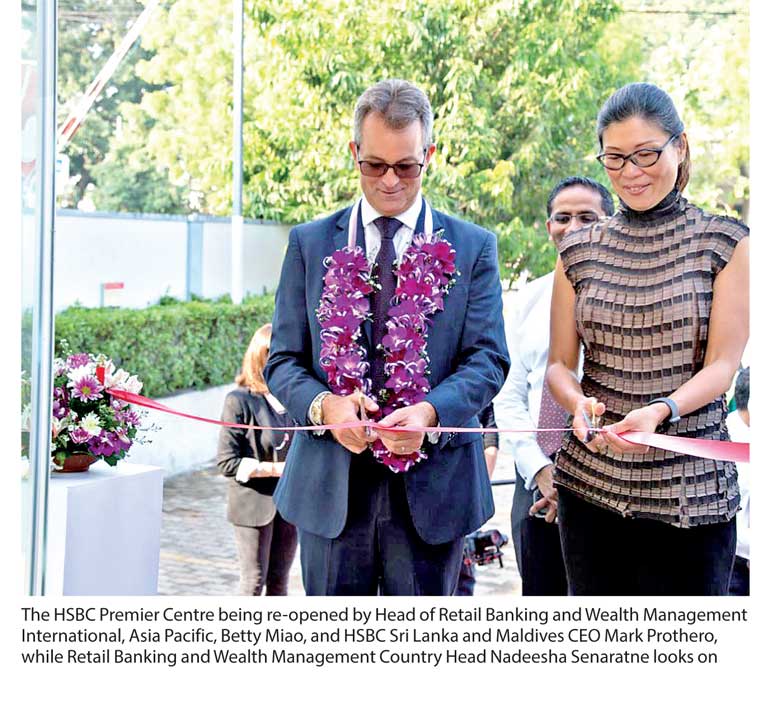 HSBC's flagship Premier Centre, which is strategically located at No. 31, Flower Road, Colombo 7, was reopened after a full renovation.

Head of Retail Banking and Wealth Management International, Asia Pacific, Betty Miao, together with HSBC Sri Lanka and Maldives CEO Mark Prothero, Head of Marketing for International Markets Joanna Kalenska, Head of Regional Sales Rudra Basu, COO Sriyan Cooray, Retail Banking and Wealth Management Country Head Nadeesha Senaratne and other senior management and staff were present at the ceremony yesterday.

The HSBC Premier Centre is an exclusive facility which operates to serve Premier customers through a dedicated Relationship Manager with their everyday banking needs. The Premier Centre has been modified with the latest look and feel of HSBC Premier globally to offer a more personalised banking experience and features an extensive space with a 'digital corner' and plenty of comfort within, to offer convenient, hassle-free and exclusive banking at all times. It is also one of the first sites within the HSBC Group to receive a brand refresh.

The HSBC Premier Centre was also certified compliant with ISO14001:2004, one of the world's most stringent environmental management Systems (EMS) in 2009 and was declared open as the first Green Office within HSBC's local network.

As a global banking proposition, HSBC Premier is designed for the affluent customer segment, offering a gateway to many global opportunities given its unrivalled presence in over 67 countries around the world.

Head of Retail Banking and Wealth Management International, Asia Pacific, Betty Miao, said: "We are keen to invest and grow our local franchise in Sri Lanka as it's a strong market within HSBC Asia Pacific and the refurbishment of the Premier centre is the first of many steps in our commitment. We also want to connect customers to global opportunities through our international banking network and offer unique privileges through the HSBC Premier Credit Card with our many strategic partnerships."

Retail Banking and Wealth Management Head Senaratne stated: "HSBC Premier is our flagship global brand which facilitates banking under three pillars - everyday banking, international banking services and the HSBC Premier MasterCard that doubles up as an everyday financial tool and gateway to infinite opportunities. Further, our re-launched Premier Junior children's savings account will help facilitate overseas account opening for Sri Lankan students traveling for their higher education and give parents peace of mind."

For everyday banking needs, Premier customers have access to island-wide ATMs for free and can access their account through HSBC's secure mobile banking app with touch ID available on Android and Apple iPhones. They are also offered preferential interest rates on deposits and loans, among a range of other benefits and services.

HSBC Premier customers now have access to over 375 Premier centres and 3,900 HSBC offices in 67 countries with access to over 17,000 HSBC ATM's worldwide where they can make cash withdrawals for free. They also receive emergency cash and get a replacement credit card if lost or stolen.

Moreover, with HSBC Global view, customers eligible to have accounts overseas can view their accounts from anywhere in the world through a single login using HSBC's mobile banking app.

Through the HSBC Premier Mastercard, which was recently rebranded using the iconic 'HSBC lion' to make it recognisable anywhere in the world, customers are offered a range of local and overseas benefits.

These include access to over 850 airport lounges worldwide at a fee of $ 27 with LoungeKey and free unlimited lounge access at all participating lounges worldwide until 30 April 2018, along with the following overseas benefits;
Double Rewards on overseas spend
Exclusive 10% savings on hotel booking with Ministry of Villas and Agoda
Complimentary Wi-Fi worldwide at over 62 million hotspots via iPass
Complimentary airport transfer with the purchase of air tickets with an HSBC Premier Mastercard
Locally, cardholders can enjoy exclusive year-round dining offers through Premier Cardholder Dines Free at the finest restaurants of the Cinnamon Grand and Cinnamon Lakeside hotels. They can also enjoy a relaxing escape on the golden beaches of Cinnamon Bey, Beruwala and Trinco Blu by Cinnamon in Trincomalee with Premier Cardholder Stays Free until 31 March 2018.

Customers can also gain access to the most exclusive lifestyle events in Colombo, such as culinary, travel, fashion, photography and art shows.

To take advantage of these services and experience the Premier hospitality that they would receive anywhere else in the world, customers can visit the newly renovated flagship Premier Centre, contact the Premier hotline on 4472272 or visit www. hsbcpremier.lk.