With the easing restrictions imposed due to the novel coronavirus, HNB General Insurance Ltd. (HNBGI), the fully owned subsidiary of HNB Assurance PLC (HNBA), announced that it will be normalising its branch operations, adhering to government and health regulations. As such, branches in curfew lifted districts will function as per normal office hours and branches in Colombo and Gampaha districts will function from 10 a.m. to 3 p.m. during weekdays.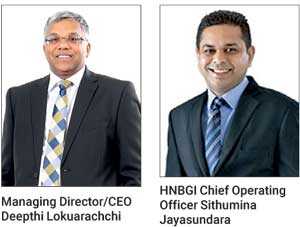 Sharing his thoughts, HNBA and HNBGI Managing Director/CEO Deepthi Lokuarachchi stated, "The pandemic that has come over has necessitated that we look very carefully and closely at securing our assets and finances. To this end, HNB General Insurance has supported its customers and other stakeholders during this difficult time, ensuing that their aspirations and overall financial wellbeing has been made as secure as possible. The Company ramped up its digital capabilities in order that services pertaining to claim intimation and settlements were carried in a seamless manner." "I wish to thank the staff members and management teams of HNBGI, for their commitment, dedication and support extended to carry out operations including policy issuance and settlement of claims including claims related to COVID-19 during the lockdown period," Lokuarachchi further added.

HNBGI Chief Operating Officer Sithumina Jayasundara added his thoughts stating, "As we move forward and normalise lives following a global pandemic, securing one's assets and financial position obviously becomes a pressing need. In this backdrop, we invite our customers and the public at large to get in touch with our nearest branch to secure for themselves meaningful insurance policies to suit your needs. In light of the changing environmental conditions and the adverse impact of the climatic changes, one cannot ignore the risks post to their immovable assets; As such, we invite everyone to talk to us today regarding our general insurance solutions. It is our belief that our insurance solutions would provide people a worry-free future, enabling them to navigate with better peace of mind to face the challenges ahead."

HNB General Insurance Ltd. (HNBGI) was created as a fully owned subsidiary of HNB Assurance PLC (HNBA) in January 2015, to give effect to the regulatory requirement of segregation of Life and General Insurance businesses. Thus, HNBGI effectively took over the General Insurance business, handled by HNBA prior to 2015. HNBGI specialises in motor and non-motor insurance solutions, and is presently one of the fastest growing General Insurance Companies in Sri Lanka, with a network of 56 branches and is ranked within the top 100 brands in the country.