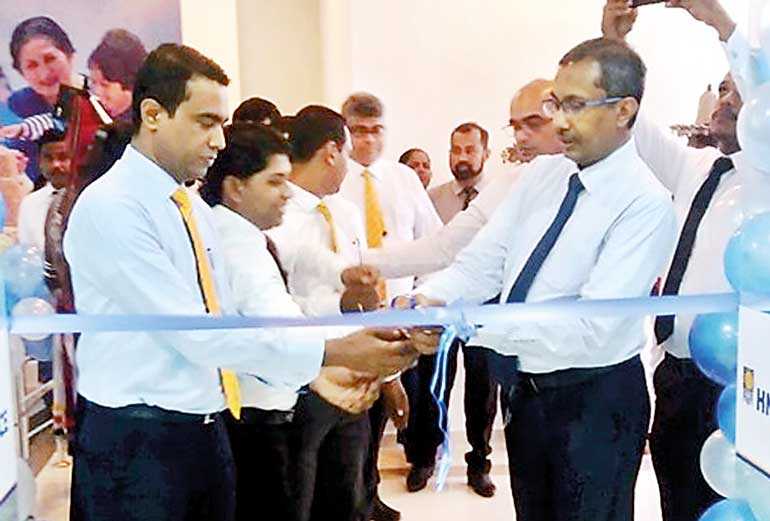 From left: HNBA Deputy Chief Operating Officer Lasitha Wimalaratne and HNBA Chief Operating Officer Prasantha Fernando
---
HNB Assurance PLC (HNBA) opened doors of its 61st branch in Tangalle recently. This state-of-the-art facility offers a full spectrum of life insurance solutions for every walk of life. This momentous occasion was graced by the presence of HNBA's senior management led by HNBA Chief Operating Officer Prasantha Fernando. The newly opened branch is located at 2nd Floor, No. 23, Sea Avenue, Tangalle.

Issuing a statement to commemorate this event, Managing Director/CEO of HNBA and its fully owned subsidiary HNB General Insurance (HNBGI), Deepthi Lokuarachchi stated, "This new addition to the branch network reinforces our presence over the country, enabling our customers to avail themselves of the opportunity to broaden their knowledge spectrum about our products and services. We believe that this enhances not only our appearance, but also convenience at hand, in a customer point of view. As such unique resources stand a core competency towards our business drive, it takes us a step closer to achieving the benchmarks of superior customer service and returns, whilst aiding the build of long-lasting connections with them."

Sharing his views, HNBA Chief Operating Officer Prasantha Fernando stated, "Customer centricity has always been our core focus and a key operating pillar, and this new establishment is a significant milestone within our all-encompassing goals of strategic expansion. As the company invests in uplifting the outlook of Point of Sales Outlets by creating a positive differentiation, it is our belief that these state of the art facilities would benefit customers in enjoying our innovative life insurance solutions."

HNBA Deputy Chief Operating Officer Lasitha Wimalaratne expressed his views stating, "By expanding our footprint across the country, our business outlook is further widened, thus opening up more market opportunities that we intend to seize and manoeuvre our way through to achieving industry excellence."

"This new branch and its highly competent team of professionals would certainly assist in such, by fostering new relations with our existing and new customers while also providing an effective customer service, helping them to obtain the best life insurance solutions to suit their every need," he added.

HNB Assurance PLC (HNBA) is the one of the fastest growing Insurance Companies in Sri Lanka with a network of 62 branches. HNBA is a Life Insurance company with a rating of A (lka) by Fitch Ratings Lanka for 'National Insurer Financial Strength Rating'. Following the introduction of the segregation rules by the Insurance Regulator, HNB General Insurance Ltd. (HNBGI) was created and commenced its operations in January 2015; HNBGI continues to specialise in motor, non-motor and Takaful insurance solutions and is a fully owned subsidiary of HNB Assurance PLC.

HNBA is rated within the Top 100 brands and Top 100 companies in Sri Lanka by LMD and HNB Assurance has won international awards for Brand Excellence, Digital Marketing and HR Excellence and won many awards for its Annual Reports at award ceremonies organised by the Institute of Chartered Accountants of Sri Lanka and SAFA (South Asian Federation Accountants).