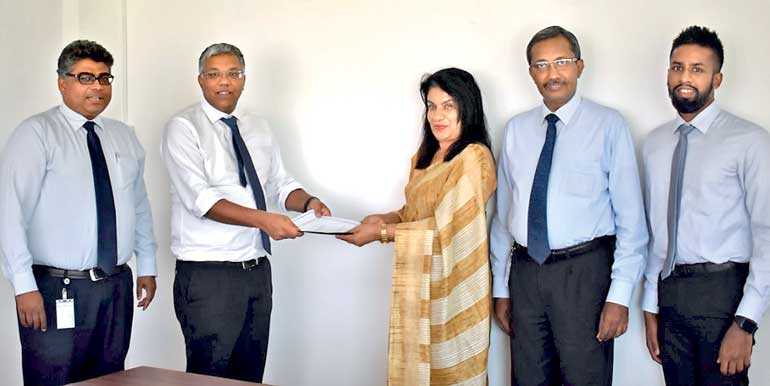 HNBA and HNBGI Head of Marketing Dinesh Yogaratnam, HNBA and HNBGI Managing Director/CEO Deepthi Lokuarachchi, CCPSL President Dr. Janaki Vidanapathirana, HNBA Chief Operating Officer Prasantha Fernando and Asst. Manager – Life, PR and Digital Media
---
HNB Assurance PLC (HNBA) and the College of Community Physicians of Sri Lanka (CCPSL) entered into an MoU recently with the objective of creating awareness and educating the general public on a number of causes related to health and wellbeing.
Sharing views on the MoU, Deepthi Lokuarachchi, Managing Director/CEO of HNBA and its fully owned subsidiary HNB General Insurance Ltd. (HNBGI) stated, "We're pleased to join hands with CCPSL for the fourth consecutive year and to strengthen an ongoing partnership. HNBA as a socially responsible brand has taken several measures to educate the general public on health, wellbeing and safety and through this partnership we hope to educate and communicate the importance of a number of topics related to healthy habits, non-communicable diseases and wellbeing. As a brand built on the core pillar of protection, we firmly believe that taking care of individuals themselves is the first step towards building a healthier nation."

CCPSL President Dr. Janaki Vidanapathirana shared her thoughts on the MoU stating, "We are absolutely pleased to team up with HNB Assurance, a brand well known for being socially responsible. Over the past years CCPSL conducted a number of events island-wide with the aim of educating the general public regarding health and wellbeing. This year too CCPSL has introduced a theme 'Shaping a Healthy Future: Youth as a Smart Investment'. Accordingly, CCPSL has planned to carry out a number of provincial, district and regional level activities including a number of health symposiums to communicate the importance of health and wellbeing. It is our belief that HNBA and CCPSL together will be able to contribute to the wellbeing of communities across the country."

HNB Assurance PLC (HNBA) is one of the fastest growing insurance companies in Sri Lanka with a network of 58 branches. HNBA is a Life Insurance company with a rating of A (lka) by Fitch Ratings Lanka for 'National Insurer Financial Strength Rating'. Following the introduction of the segregation rules by the Insurance Regulator, HNB General Insurance Ltd. (HNBGI) was created and commenced its operations in January 2015; HNBGI continues to specialise in motor, non-motor and Takaful insurance solutions and is a fully owned subsidiary of HNB Assurance PLC. HNBA is rated within the Top 100 Brands and Top 100 companies in Sri Lanka by LMD and HNB Assurance has won International awards for Brand Excellence, Digital Marketing and HR Excellence and also won many awards for its Annual Reports at the Award ceremonies organised by the Institute of Chartered Accountants of Sri Lanka and SAFA (South Asian Federation of Accountants).