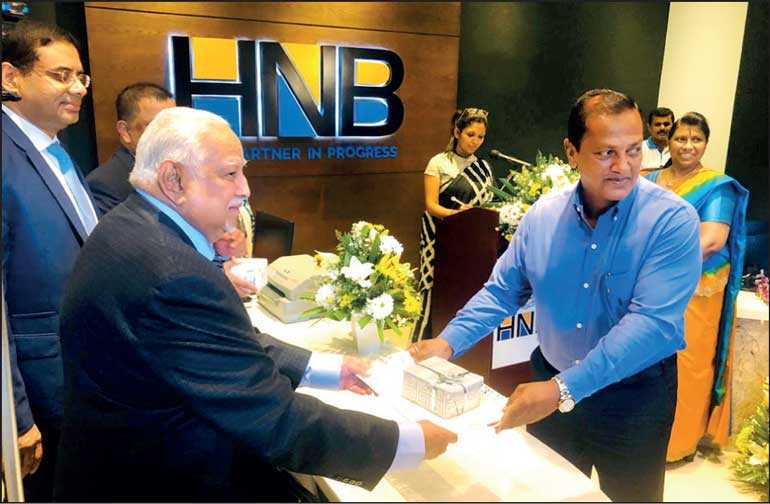 Chief Guest Harry Jayawardena accepting a deposit from Preethiraj de Silva at the opening ceremony as HNB Chairman Dinesh Weerakkody and HNB MD and CEO Jonathan Alles look on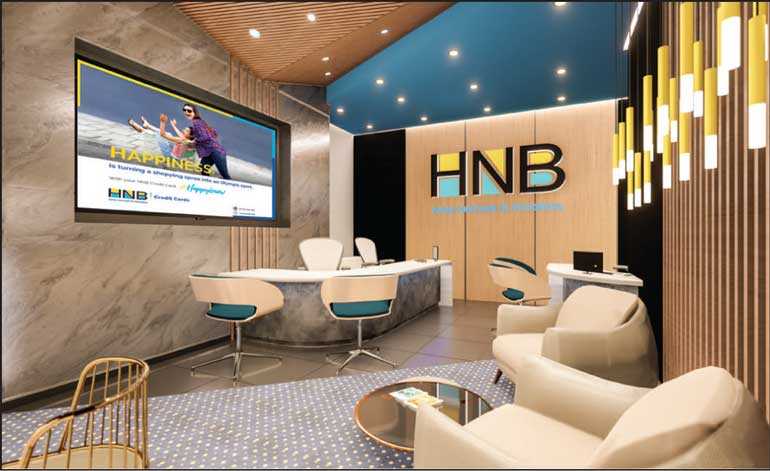 HNB Customer Centre at One Galle Face Mall
---
HNB PLC, Sri Lanka's largest private sector bank, opened its doors to their newest customer-centric business unit at the most prestigious address in town – One Galle Face shopping mall.

Declared open by corporate luminary, Harry Jayawardena together with HNB Chairman Dinesh Weerakkody, HNB Managing Director and Chief Executive Officer Jonathan Alles and representatives of the Bank's top management, the newly opened customer centre will offer the wide plethora of products and services which the bank is famed for including provding POS machines to retail outlets at One Galle Face, as well as access to groundbreaking products like HNB SOLO – the bank's recently launched mobile wallet.

Speaking at the opening, Chief Guest Harry Jayawardena recalled HNB's long journey in becoming a leader in the Banking and Financial Services space in the nation, while wishing the bank every success for its future.

Open for business on weekdays from 10 a.m to 5.30 p.m, the new centre is equipped to provide digital and customised banking services, ideally suited for retail customers and those employeed in the area,

the large local and global companies and brands moving into One Galle Face.

"This is indeed a special day for HNB, as we scale newer heights," said Managing Director and CEO Jonathan Alles. "To be located within this glamorous setting is an indication that we are geared and set to handle the banking needs of a wide segment of customers, from those who visit the mall to the many offices and staff who will be working here".

"In the past few years, HNB has introduced innovative products and services and now leads the digital revolution in the local banking arena. I want to thank all those past and present colleagues of HNB who have contributed towards this growth, while also encouraging today's generation of employees to reach out to customers and offer the best possible services, to reach greater heights".

One Galle Face is Colombo's first internationally developed and managed mixed-use development project. Helmed by the Shangri-La Group, One Galle Face comprises four distinct entities: One Galle Face Tower, One Galle Face Mall, The Residences at One Galle Face, and Shangri-La Hotel Colombo. As a new paradigm for live, work, play and stay in Colombo, One Galle Face combines vibrant retail and entertainment offerings, elegant living spaces and a premier office address with the warm service and hospitality for which Shangri-La Group is renowned.

This year, HNB was adjudged the number one business entity among top Sri Lankan corporates by Business Today and has been receiving continuous praise for its pioneering initiatives across the entire spectrum of its operations. The bank was also judged 'Best Managed Bank in Sri Lanka' by the prestigious Asian Banker Magazine while the bank's Managing Director and CEO Jonathan Alles was conferred with Asian Banker' CEO Leadership Achievement' award.

Among its several accolades, HNB was also declared 'Sri Lanka's Best Bank' for 2019 by Euromoney Magazine for the third time, in addition to being ranked among the World Top 1000 Banks list compiled by the prestigious UK-based Banker magazine, further strengthening its status as Sri Lanka's pre-eminent private sector bank.

Recently, HNB was also recognised among the 'Top 10 Most Admired Companies in Sri Lanka' by the International Chamber of Commerce, Sri Lanka and Chartered Institute of Management Accountants (CIMA). HNB's remarkable track record of excellence secured it the first place ranking ahead of all Sri Lankan banks included in the LMD Top 100 Club – a position which was evaluated based on its performance over the past 25 years.