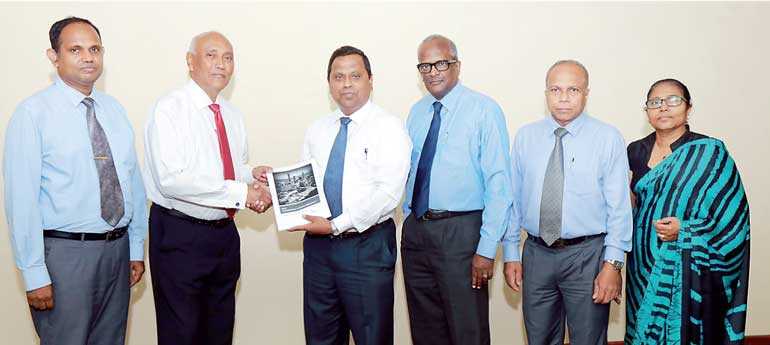 Present at the agreement signing were SLBA Secretary General Ravi De Silva (second from left), HDFC Bank CEO Palitha Gamage (third from left). Also present from left: SLBA SBI Core Group Member Hemantha Senevirathne, HDFC Bank COO M.K. Nambiyarooran, CFO D.V. Pathirana, and AGM – Business Development and Marketing Himali Gunathilake
---
HDFC Bank becomes a signatory to the Sustainable Banking Principles (SBP) launched by the Sri Lanka Banks' Association (SLBA), aiming to harness banking industry contribution towards realisation of the Sustainable Sri Lanka Vision 2025.

The pioneer housing finance Bank in Sri Lanka, HDFC is committed to implementing Sri Lanka's sustainable development agenda in realising 'Sustainable Sri Lankan Vision 2025', and to contribute towards the UN's Sustainable Development Goals 2030 (UN- SDGs) agenda.

HDFC Bank as the leader in housing finance in Sri Lanka, has contributed largely to the socioeconomic upliftment of the low and middle income families, over the last 35 years. HDFC Bank realigned its business strategy with the objective of harnessing more positive economic, environmental and social impacts from housing finance and other development banking services, catalysing an inclusive and sustainable development in the country while strengthening itself as a sustainable entity.

The bank is strengthening with continuous improvement of its capacities, Environmental and Social (E&S) risk management and governance. The bank is strategising its business activities and operations within a sustainable development strategy and policy framework. HDFC's business strategy is built on its core values with a commitment to implement SLBA's Sustainable Banking Principles, to which the bank became a signatory yesterday with over 18 other leading banks in the country. Sustainable Banking Principles were launched by SLBA in 2015. The objective of these principles is to define certain minimum requirements for signatory banks for integrating environmental and social considerations into operations and portfolio building.

The Principles and related implications are to be interpreted and applied by each bank – subject to the minimum requirements – in line with their core values, business model, and risk management framework.

The Central Bank (CBSL), as a member of the Sustainable Banking Network, is instituting the frameworks of these principles for sustainable finance with the Sustainable Finance Road Map launched by the CBSL. As part of this, the SLBA has collaboratively worked with the CBSL in developing the Sustainable Banking Initiative (SLBA SBI).

The SBI also responds to Sri Lanka's Sustainable Vision 2025 in providing the hard and soft frameworks for financial access and inclusivity with enhanced brand value associated with sustainable finance.

Meanwhile, the CBSL had insisted on prepare a set of guidelines from Sri Lankan banking sector to facilitate the implementation of their Sustainable Finance Road Map. The Sustainable Banking Principles of Sri Lanka dovetailed with the CBSL's Sustainable Finance Road Map and were acknowledged as such by the CBSL.

The Principles encapsulate sustainable banking practices to manage environmental and social risks in projects financed, and to support banks and businesses to be greener, climate-friendly and socially inclusive. The Sustainable Banking Principles that consist of eleven principles are aligned with the broad requirements of the CBSL Sustainable Finance Road Map and will finally aid implementation of Sri Lanka's Sustainable Development Goals.