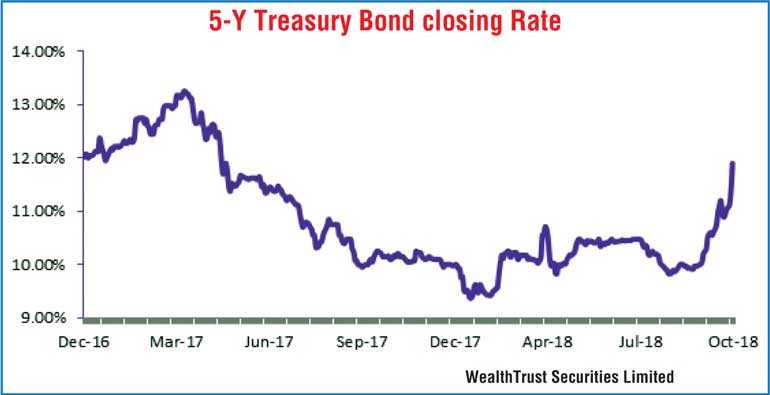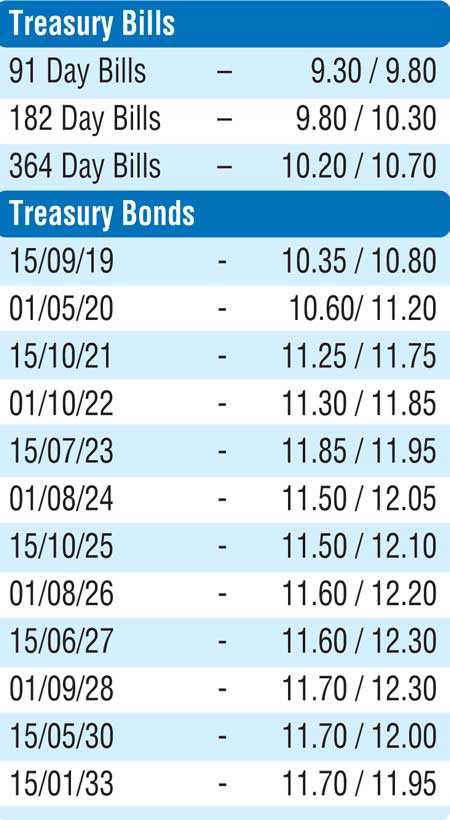 Second consecutive round of bond auctions leads mandatory third phase
By Wealth Trust Securities

The secondary market yield on the five-year maturity of 15.07.23 was seen spiking to over a 17-month high of 11.90%, a level last seen during late April to early May 2017, following the outcome of its auction conducted yesterday.

The auction on this maturity was seen fetching a weighted average of 11.69% with only an amount of Rs. 16 billion been accepted at its phase I out of a offered amount of Rs. 20 billion.

This led to its phase II and eventual mandatory phase III for the balance Rs. 4 billion at the weighted average of 11.69%. The mandatory phase III was seen enforced on an auction for a second consecutive time following the round of auctions conducted on 13 September.

However, the 14 year and 3 month maturity of 15.01.2033 was fully subscribed at its phase I, recording a weighted average of 11.90% for its total offered amount of Rs .20 billion.

In the secondary bond market, activity during morning hours of trading saw the 15.07.23 change hands at 11.32%. However, following the auction outcomes yields on the 15.07.23 were seen increasing to change hands within the range of 11.80% to 11.90% while the 15.01.33 was traded at 11.90%.

The total secondary market Treasury bond/bill transacted volumes for 10 October was Rs.12.14 billion.

In the money market, the net liquidity shortfall stood at Rs. 24.56 billion yesterday with call money and repo averaging 8.45% and 8.39% respectively. The OMO department of Central Bank was seen infusing liquidity by way of an overnight and a seven day term repo auction for successful amounts of Rs. 5.75 billion and Rs. 10 billion respectively at weighted averages of 8.25% and 8.27%.

A further total amount of Rs. 7.39 billion was injected by way of outright purchases of Treasury bills at weighted averages ranging from 9.44% to 9.61% for duration of 168 days to 203 days, valued today.
Rupee dips marginally
The rupee on its spot contract was seen closing the day marginally lower at Rs 171.35/45 against its previous day's closing of Rs. 171.20/40 on the back of continued demand for the greenback. The total USD/LKR traded volume for 10 October was $ 73.415 million.Given are some forward USD/LKR rates that prevailed in the market: one month – 172.50/80; three months – 174.60/00; six months – 177.60/00.