HNB Assurance PLC (HNBA) and its fully owned subsidiary HNB General Insurance Ltd. (HNBGI) announced the appointment of Dinuka Pattikiriarachchi as HNBA Group's Chief Human Resources Officer.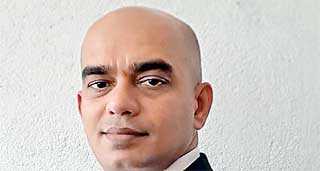 HNBA and HNBGI Chief Human Resources Officer Dinuka Pattikiriarachchi
Dinuka holds a Master of Business Administration (HR Special) Degree from the University of Colombo. He holds an Asian Personnel Manager Certification from NICC, Japan and also holds a National Diploma in Human Resources Management from Institute of Personnel Management, Sri Lanka.
Dinuka counts over 25 years of experience of which 19 years in the field of Human Resources Management working at many organisations. He started his professional career at Habib Bank AG Zurich and then continued at MAS Linea Aqua Ltd. and Ceylon Pencils Ltd. Prior to join HNBA he was functioning as the Senior Manager Human Resources at Nestlé Lanka PLC for more than seven years.

HNB Assurance PLC (HNBA) is the one of the fastest growing insurance companies in Sri Lanka with a network of 59 branches. HNBA is a Life Insurance company with a rating of A (lka) by Fitch Ratings Lanka for 'National Insurer Financial Strength Rating'. Following the introduction of the segregation rules by the Insurer Regulator, HNB General Insurance Ltd. (HNBGI) was created and commenced its operations in January 2015; HNBGI continues to specialise in motor, non-motor and Takaful insurance solutions and is a fully owned subsidiary of HNB Assurance PLC. HNBA is rated within the Top 100 Brands and Top 100 companies in Sri Lanka by LMD and HNB Assurance has won international awards for Brand Excellence, Digital Marketing and HR Excellence and also won many awards for its Annual Reports at the Award ceremonies organised by the Institute of Chartered Accountants of Sri Lanka and SAFA (South Asian Federation Accountants).