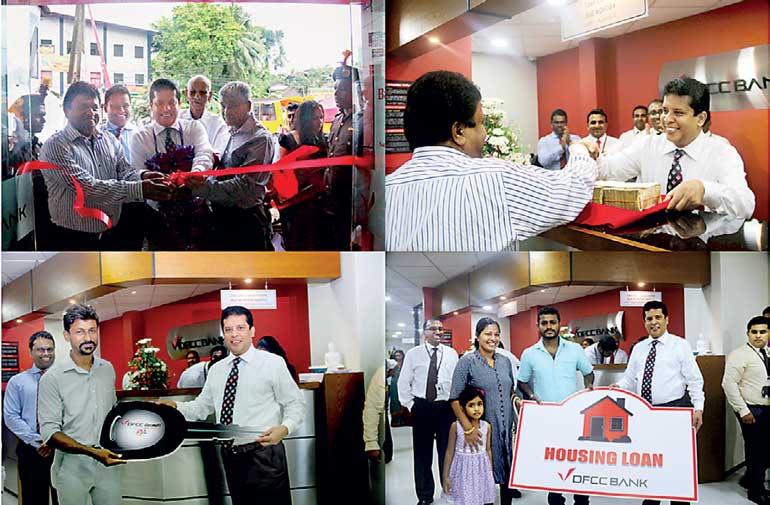 DFCC Bank opened the doors of its newest fully-fledged branch in Morawaka to enhance access for customers in the area. Located at Isuru Towers, Deniyaya Road, the new DFCC Morawaka Branch was ceremoniously inaugurated by DFCC CEO Lakshman Silva in the presence of bank staff and prominent civil society members from the area, with banking transactions being conducted with the newly-opened branch's first customers.

Commenting on the branch opening, DFCC CEO Lakshman Silva said, "DFCC Bank is privileged to open a fully-fledged branch in Morawaka, marking our commitment to offer local customers the benefits of our commercial banking products and services across customer segments with specialised expertise in development banking. This unique blending of commercial banking and development banking places DFCC Bank in a unique position and we believe we can generate greater value and new opportunities for customers through our products and services. Our branch expansion strategy has made it possible to penetrate markets across the country to be accessible to more customers. We are grateful to the Morawaka community for welcoming us into their fold."

Renowned as a national icon, the bank possesses the expertise of a pioneer development bank and the energy of a dynamic commercial bank, thereby extending unmatched value and unique benefits to customers.

DFCC Bank has located its branches strategically to cater to increasing demand for its products and services as a full service development and commercial bank. The bank offers a vast array of retail banking facilities and services for its customers, empowering them to conduct the entire suite of banking transactions in one location. Customers can access current and savings accounts, fixed deposits, loans, pawning services, leasing facilities, NRFC/RFC accounts, credit cards and remittances at the new branch.

DFCC's new branch in Morawaka can be contacted on Tel: (041-2282020, 041-2282460) or Fax: (041-282461).