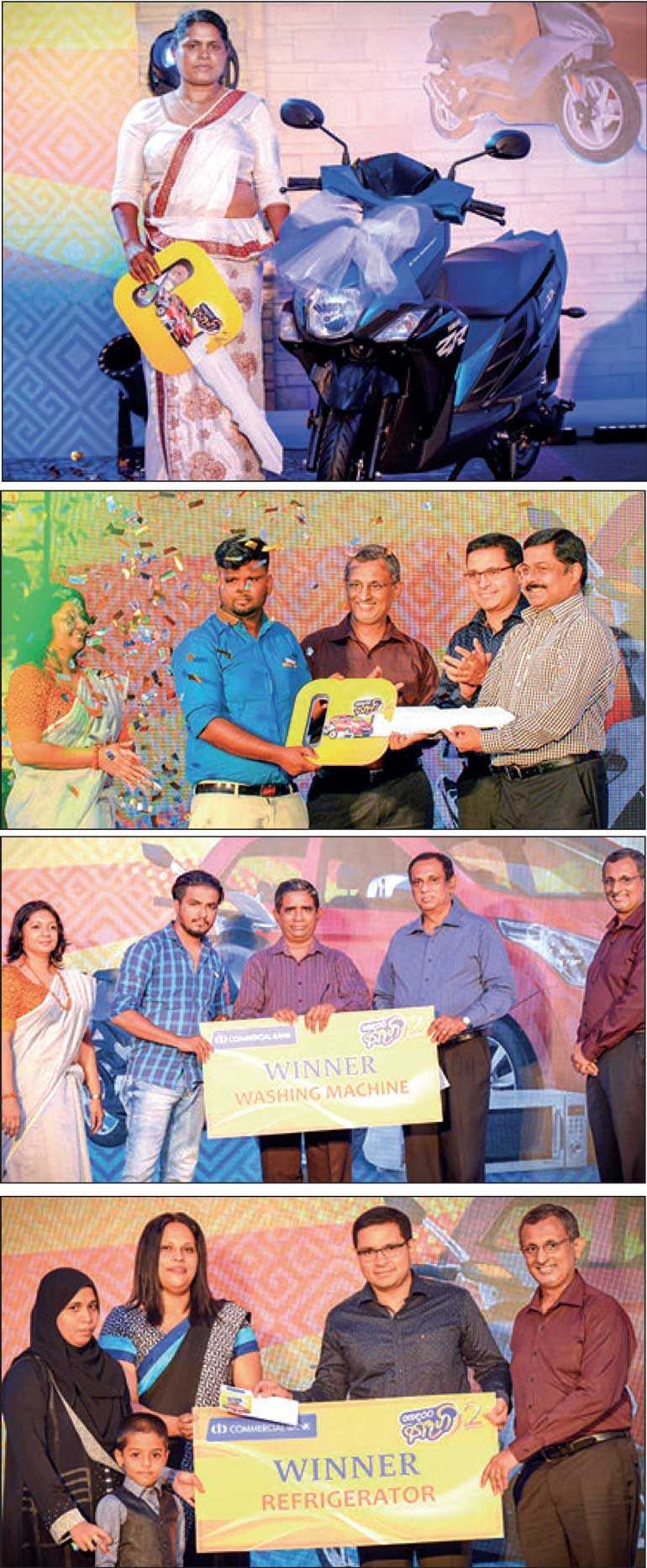 Some of Commercial Bank's 'Gedarata Thegi' final winners with the Bank's Managing Director S. Renganathan, Chief Operating Officer Sanath Manatunge and members of the bank's corporate and senior management
---
A car, a scooter and 90 valuable home appliances were presented to customers of the Commercial Bank of Ceylon at the conclusion of the Bank's 'Gedarata Thégi 2'remittance promotion recently.

The grand prize of a Hyundai Eon car and the second prize of a Yamaha motor scooter were won by Balenthiran Nishanthan and Pallegedara Pathmasiri Bandara, respectively. A total of 15 fridges, 15 washing machines and 15 microwave ovens too were presented to 45 lucky winners at the grand draw of the promotion at the Galadari Hotel.

The event also included the presentation of 15 hampers each worth Rs. 15,000, 15 gas cookers and 15 rice cookers to customers who received remittances via the bank in the last quarter of the year, bringing to a close the promotion that was held over nine months. The bank conducted two previous quarterly presentations at which a total of 90 customers took home identical prizes.

Commercial Bank's Managing Director S. Renganathan graced the entertainment-filled prize event as Chief Guest, while the Bank's Chief Operating Officer Sanath Manatunge and members of the corporate management too were present.

The 'Gedarata Thégi 2' promotion enabled users of e Exchange, Commercial Bank's own money transfer service, as well as those who received remittances via MoneyGram, Express Money and Ria from 1st April to 31st December 2018 to automatically enter each quarterly draw and the final grand draw.

Furthermore, holders of a Commercial Bank Remittance Card – a branded Debit cum ATM Card licensed by Visa Inc. – who received remittances via the bank during the promotion, period doubled their winning chances at these draws.

In all, a Hyundai Eon car, a Yamaha scooter and 180 other valuable home appliances and prizes worth Rs. 5 million were won by recipients of remittances sent via the Commercial Bank of Ceylon during the promotion.

The only Sri Lankan bank to be ranked among the world's top 1000 banks for eight years consecutively, Commercial Bank operates a network of 266 branches and 830 ATMs in Sri Lanka. The bank has won multiple international and local awards in 2016 and 2017 and over 40 international and local awards in 2018.Commercial Bank's overseas operations encompass Bangladesh, where the bank operates 19 outlets; Myanmar, where it has a Representative Office in Yangon and a Microfinance company in Nay PyiTaw; and the Maldives, where the Bank has a fully-fledged Tier I bank with a majority stake.