From left: Nancy Zhang - Head of Citi China Corporate Banking; Prasanjith Wijayathilake - Executive Director, Investment Promotion, BOI of Sri Lanka; Shi Yong Hong - Vice President, CCCME; Ravin Basnayake - Citi Country Officer, Citi Sri Lanka; Zhang Yu Jing - President, CCCME; Mangala Yapa - Chairman, BOI of Sri Lanka; Pasangi Weerasinghe - Head of Treasury and Trade Solutions Sales, Citi Sri Lanka; Savantha De Saram - Senior Partner, D. L. & F. De Saram; Daniel Himpson - Head of Business Development, Asia Pacific, Lex Mundi and April Zhou - China Desk Head, Citi India, Bangladesh and Sri Lanka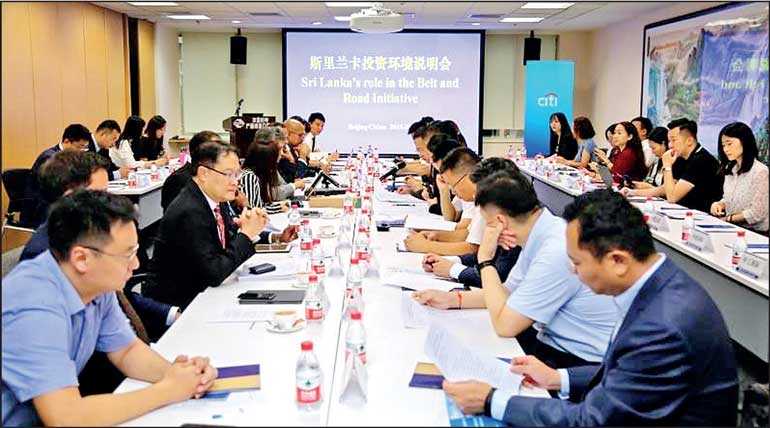 ---
In a unique collaboration, the Board of Investment (BOI) of Sri Lanka, Citi, CHEC Port City Colombo and D.L. & F. De Saram, the Lex Mundi member firm in Sri Lanka, joined forces to highlight Sri Lanka's role in the Belt and Road Initiative (BRI).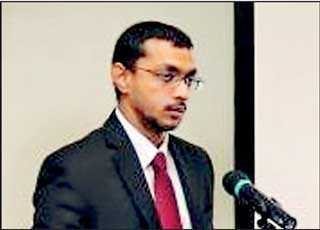 Prasanjith Wijayathilake - Executive Director, Investment Promotion, BOI of Sri Lanka


Sri Lanka is experiencing an uptick in Chinese-backed infrastructure-related growth which is expected to offer a major boost to the country's economy.

The half-day event was hosted by the China Chamber of Commerce for Import and Export of Machinery and Electronic Products (CCCME), one of the largest chambers in China. Held in Beijing on 26 August and attended by over 50 delegates across 30 companies, the event attracted a range of industries including some of the largest state-owned enterprises (SOEs) in China.

The event commenced with a meeting between the Sri Lankan delegation and CCCME President Zhang Yu Jing where discussions included the importance of the Sri Lanka-China economic relationship. CCCME Vice President Shi Yong Hong declared the event open, introducing the delegation while emphasising the significance of strengthening the partnership between the two countries.

BOI Chairman Mangala Yapa, delivering the keynote speech, drew attention to the fact that China was the largest contributor of foreign direct investment to Sri Lanka and highlighted how the corresponding projects would increase capital inflow, enabling Sri Lanka to compete in global markets as an investment hub. Yapa concluded his speech by inviting investors to invest in Sri Lanka sooner than later.

Sri Lanka Citi Country Officer Ravin Basnayake spoke about the country's wider role in the BRI. He stressed that for more than 200 years, Citi's mission had been to enable growth and economic progress. The bank was extremely focused on collaborating with and providing complete banking solutions to clients as they invested along the Belt and Road.

Basnayake expressed that it was a priority for Citi to cater to global clients, including Chinese SOEs, while helping them understand the significance of investing in Sri Lanka and the opportunities it presented them.

Elaborating on the investment landscape, BOI Sri Lanka Investment Promotion Head Prasanjith Wijayatilake detailed the main attractions of Sri Lanka as an investment destination, while providing an overview of the focus sectors for foreign investment.

He spoke in detail about the socioeconomic progress in the country, infrastructure growth, the supportive business environment and incentive regime as well as the island's strategic advantages in terms of location and access to key markets.

D.L & F. De Saram Senior Partner Savantha De Saram shared valuable insights on the regulatory and legal framework in Sri Lanka while outlining the market accessibility for Chinese companies looking to invest in Sri Lanka. He reiterated the importance of identifying and understanding the regulatory framework in Sri Lanka to enable a smoother flow of cross-border investment. Other areas that he covered included dispute resolution, taxation, contract law and public sector procurement with emphasis on infrastructure projects.

Citi's capabilities to support Chinese corporates in BRI projects was reemphasised by Citi China's Head of Corporate Banking, Nancy Zhang. She outlined Citi's global relationship model and its benefits while speaking in detail about the dedicated China desks across Citi's network. Nancy highlighted Citi's strong relationship with local regulators in China as well as its ability to provide insights to different markets. Furthermore, she shared several case studies on how Citi had helped clients by mitigating currency risk, improving liquidity visibility and advising clients concerning the repatriation of trapped funds in regulated markets.

In order to offer long-term, supportable financing to facilitate BRI projects in Sri Lanka, Citi Sri Lanka Treasury and Trade Solutions Sales Head Pasangi Weerasinghe explained how Citi was ideally positioned to be the partner of choice for clients with unparalleled in-country capabilities, local expertise and an unrivalled network across the Belt and Road. She also spoke on the current Sri Lankan market and political outlook, while stating that financial integration and enhanced policy cooperation were key for long-term sustainability, especially in countries like Sri Lanka.

CHEC Port City Colombo Chief Sales and Marketing Officer Liang Thow Ming offered an overview of Port City Colombo, the ground-breaking city development built as an extension of the Central Business District of Sri Lanka's commercial capital, Colombo. Ming spoke in detail about the reclaimed land project, the role of China in its development and how it expected to facilitate an economic upturn in Sri Lanka upon completion.

An interactive session followed where attendees were given an opportunity to pose questions to the panel of speakers. Potential investment opportunities, pricing policies, currency outlook, subsidy mechanisms along with the continuity of the Sri Lankan Government's projects for medium and long-term sustainability were the areas covered. The event concluded with closing remarks from CCCME Vice President Shi Yong Hong, who summarised the key takeaways of the day and the need to strengthen the economic relationship between China and Sri Lanka.

The client feedback from the event was very encouraging, with the attendees stating that the event was held at a very significant time, especially as Chinese investment in Sri Lanka had been rapidly rising and a comprehensive investment, legal and banking overview was a much-needed requirement.